BB3 type pumps according to the production GOST 32601-2013 Nasosenergomash Sumy JSC
In 2015, Nasosenergomash Sumy JSC informed about the intention to produce the BB3 structural type pumps. Today the Enterprise has made a big step forward, expanding its dimension range, developing special technological cycles, producing and testing prototypes and installing at the objects first batch of complete products of new generation - NPS-M type pumps.
Centrifugal, multistage, between-bearing pumps with horizontal casing joint have centuries-old history, but the design improvement continues even today. Currently, according to GOST 32601-2013 «Centrifugal pumps for petroleum, petrochemical and natural gas industries. General technical requirements" (modified ISO 13709:2009) pumps of this type assigned to BB3 classification designation.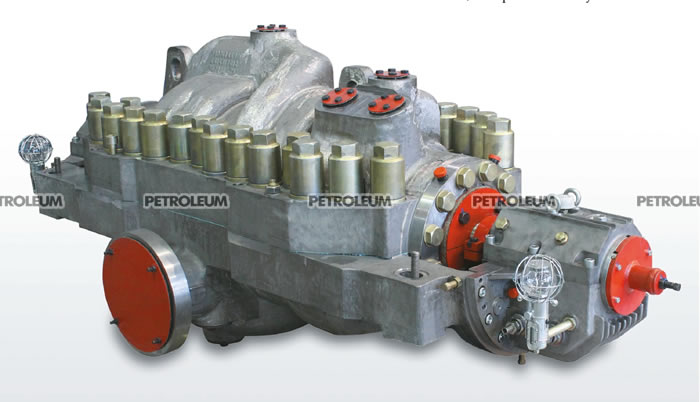 Due to reliability design and easy maintenance the pump has a wide range of applications:
Production of oil, gas, gas condensate, including at the offshore platforms.
Pipeline transportation of oil, petroleum products, liquefied gases.
Technological processes of oil refining and petrochemistry.
Technological processes of gas refining and chemical utilization of natural gas.
Utility systems in atomic energy industry and other sectors of the industry.
Maintaining the reservoir pressure in oil production systems.
Water desalination.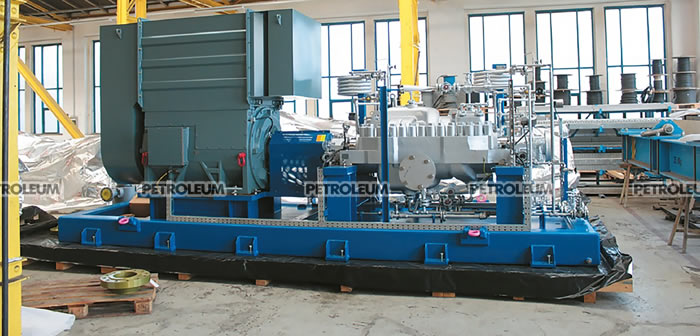 Figure 1. Unit NPS-M 150-350
In the countries of the former USSR BB3 pumps according to GOST 32601-2013 are widely used in oil refining, petrochemicals, oil production, chemical industry, less often in the main oil transportation and as a supply group pump.
Until recently, BB3 pumps together with spiral drains and transfer channels were exclusively production of companies abroad.
As part of HMS Group JSC, Nasosenergomash Sumy JSC particularly masters production of spiral pumps with transfer channels corresponding to the requirements of GOST 32601-2013.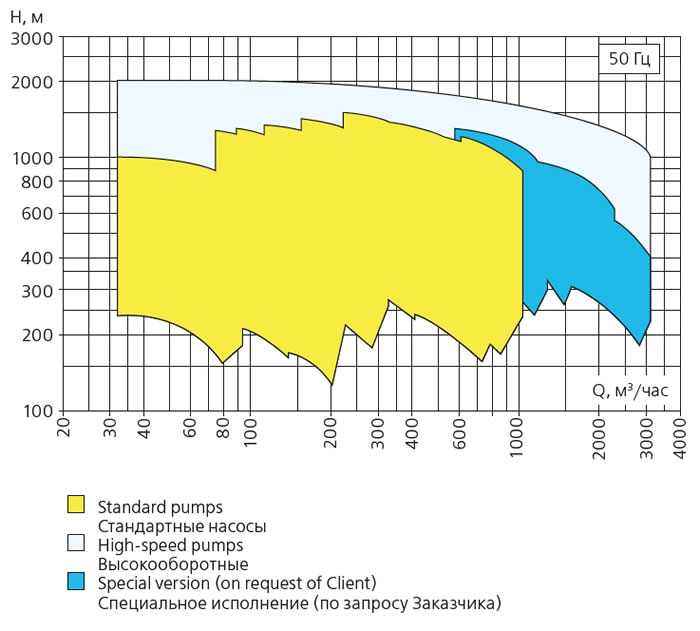 Figure 2. Parametric field of NPS-M pumps
Technical parameters
Capacity range: up to 3700 m3/h.
Pressure range: up to 2000 m.
Maximum operating pressure: 275 Bar (27.5 Mpa).
Maximum temperature: up to 250°C.
Rotation speed: up to 4500 rpm.
Specific density: over 0.70.
Construction features
Structurally it is a multistage centrifugal pump with horizontal joint, horizontally-opposed arrangement of impellers, with spiral drains. Casing parts are developed on the basis of the required parameters with the strength criteria.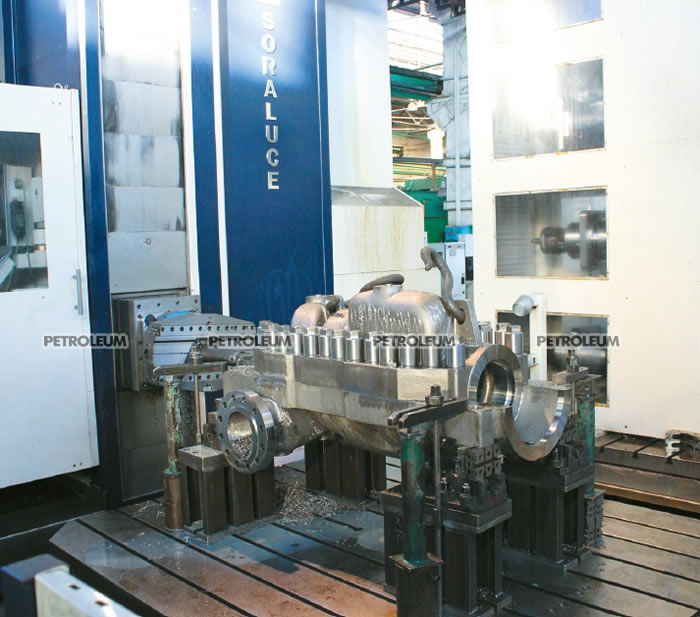 Figure 3. Manufacture of NPS-M 150-350 pump
Pump casing with volute spiral casing has identical upper and lower half of the casing, except for locations of nozzles and supports.The symmetry of the upper and lower halves of the casing ensures reliable operation of the pump under high temperatures handled medium.Casing joint firmed by the insert made of composite material and tightly sealed with pins. Access to the mount attachment of the main connector from the top of the casing greatly facilitates maintenance of the pump, simplifies the inspection and modification of internal channels, replacement of rotor and stator parts.Possibility of application of changeable flow parts, as well as change the number of stages significantly expands the range of operation of the pump on the delivery and thrust without replacing the casing, providing high efficiency.Confirmation of the operating parameters and indicators of energy efficiency is carried out under full-scale rotary velocity using certified stand of Nasosenergomash Sumy JSC.Pump bearings are located in the axial plane of the casing to minimize deviations from thermal expansion.Pump casing goes through hydraulic pressure test that makes up 150% of the maximum working pressure of the pump (unless otherwise required by the customer) or the pressure equal to 275 Bar (27.5 Mpa). Suction and discharge nozzles are located at the bottom of the pump casing.Flanges can be made according to GOST/ASME/DIN/JIS standards.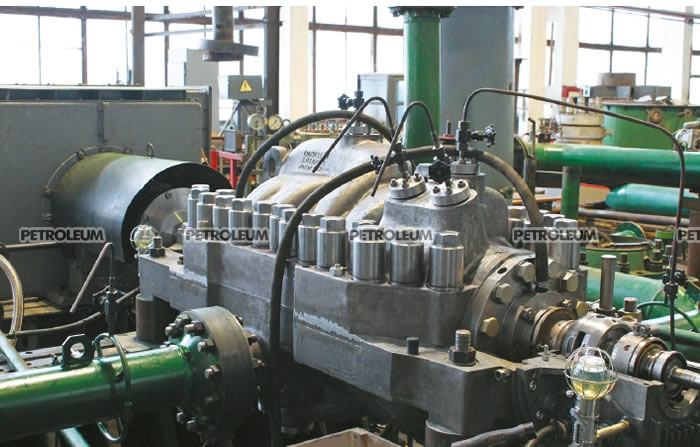 Figure 4. Test of NPS-M 150-350 pump
Both end seals subjected to suction pressure have standard design. Pressure in the end seal from the first stage of the second batch of stages is reduced to the level of suction pressure through the throttle bush and the internal blow down.
To facilitate mounting/dismantling of impellers, shaft has stepped mounting surface. Coupling is mounted on conical section of the shaft end to simplify installation and maintenance.
Impellers of centrifugal type are manufactured by precision casting; balanced dynamically and statically. Impellers are fixed on the shaft by the way of force fitting and embedded rings, which eliminates intermediate bushings, prevents bending of the shaft and weakening of wheel fixation due to differences in thermal expansion of matched elements.
Groove seals rings are mounted with force fitting and may be welded to the impellers, as well as be secured on them using connectors (pins) — depending on the material of the impellers and customer requirements. Pumps have improved suction capacity with the ability to install double inlet impeller as the first stage pump.
Shaft bushings included in end seals are installed using loose-fitting, fastened on the shaft and fixed with nuts. This eliminates installation (adjusting) screws that could weaken the attachment during operation.
Steel bearings housings are designed for heavy working conditions under various environmental conditions and ranges.
There are ways of cooling down bearings with fan, pumped medium or utility water from from a third-party source, or oil from pressure lubrication installation. Refinement of cooling system of bearings can be produced on site using a suitable set of details.
Special fixing of the bearings in the pump casing allows to quickly and reliably centering the rotor with the stator to simplify maintenance. A wide range of bearing types and options of cooling and lubrication systems allows the use of pumps for various applications:
Radial and angular thrust ball bearings are used in the pumps in standard version.
Journal and radial-thrust bearings are used in special versions of the pump.
Journal and plain thrust bearings are used in case of high speeds and high power pump. It is possible to use the oil pump at the shaft.
A variety of options for the material execution of the main components allow you to use the pumps for pumping a wide range of liquid mediums.
Mastering by Nasosenergomash Sumy JSC of BB3 pumps with transfer channels in a spiral variation according to GOST 32601-2013 once again confirms the status of the Enterprise as a leading manufacturer of pumping equipment and greatly enhances the abilities of Enterprise in terms of replacement of expensive foreign pumping equipment at the industry facilities.
References: 1. «Centrifugal pumps for petroleum, petrochemical and natural gas industries. General technical requirements" (modified ISO 13709:2009). - M.: Standartinform, 2014. - 299 p.