Tailed Heaven: the Territory of Care and Warmth
Dear Friends,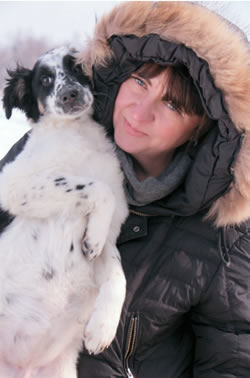 "The greatness of a nation and its moral progress can be judged by the way its animals are treated."
Mahatma Gandhi, India's political and public activist
"A dog possesses one great quality – it remembers the good. It protects the home of its good-doer to death".
Anacharsis, Sakae scholar, sage and philosopher
The "Tailed Heaven" Public Fund is a non-profit organization, which brings together people who care for animals and work to improve their lives. It is a growing platform to bring systemic assistance to homeless dogs in need of it, where the place of each recovered pet that has found home is overtaken by a new one, followed by another.
The creation of the fund has been a logical step in the development of our activities to provide comprehensive assistance to animals. The founders and trustees of the fund and the employees of the shelter together with volunteers and like-minded people have been helping homeless animals for many years, rescuing them from the streets and dog catchers, treating and nursing the car-hit and sick dogs. The "Tailed Heaven" shelter was organized on 9 July 2018, based on which the same-name public fund was registered in January 2019.
Dogs and puppies living at the shelter receive the necessary medical aid, anti-parasitic treatment, vaccination, sterilization and, if necessary, socialization, because almost every story is full of suffering. The ultimate objective of the fund and the shelter is to find a good and caring home for the healthy and socially-adapted fosterlings, and to make our society kinder and more responsible towards animals.
Today the shelter is home to approximately 250 rescued dogs and puppies waiting for their better families – and they often find such families! Over the short period the shelter has been active, about 200 pets have already found their caring masters from whom we regularly receive lots of positive feedback. And the slots of the "lucky ones" are filled by the newcomers rescued from the streets, catchers and cruel people.
It hurts to acknowledge that in 90% of cases the new masters are willing to take only healthy dogs and puppies, while special and vulnerable animals (disabled, sick, injured and old) that need special care remain at the shelter almost forever. There are rare cases of lucky "adoption" of disabled dogs that are ready to rush and enjoy life despite their disabilities. The remaining special residents are provided special maintenance and care conditions, and the plans are to build a separate walking area for them in the future.
As you can see, the "Tailed Heaven" has big plans and goals, and taking into account the scale of our activities we need even more assistance and involvement of people who care. We want to become the project of happy stories where any dog finds a new master's home or has as comfortable conditions as possible at the shelter. And we hope that in its new status, thanks to old and new friends and volunteers, the "Tailed Heaven" will be able to reach a higher, more efficient level of its activities for the benefit of four-legged friends who need human help!
Supporting the "Tailed Heaven" with actions, money, things, medicines and products you can be sure that your support reaches the beneficiaries in the form of food, medical care, warm home and affectionate hugs. We understand that charity must be public and transparent, that's why we regularly update our feeds on social networks, publish expense reports, value our aides and would be happy to welcome you as guests for personal acquaintance. Owing to you, animals receive everything they need to find a better home. Biggest thanks!
Please join the team of like-minded people and friends of the fund!
Irina Mikhailova, Director, "Tailed Heaven" Public Fund