Rashid Zhaksylykov, KAZSERVICE: We depend on the situation in the global economy
Rashid Zhaksylykov, Chairman of the Presidium of the Association of oil service companies of Kazakhstan, answers questions from Petroleum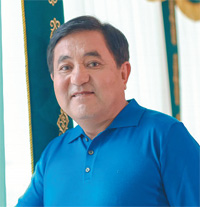 – Mr. Zhaksylykov, in recent years, when oil prices fell to the lowest notch, it was a very difficult time for the oil service industry. Almost all mining companies have reduced or even frozen their investment programs and left service companies without a job. Last year, the prices seem to have recovered to an acceptable level, expansion projects are being implemented at two large fields Tengiz and Karachaganak, and new drilling is underway. What is the state of Kazakhstan's oil service in 2019?
– Indeed, 2019 was the most stable year for the Kazakhstani oil service in relation to the price of oil. Oil service companies were mainly engaged in the Future Growth Project of the Tengiz field. Besides, in 2019, NCOC carried out the first significant overhaul since the launch of the project, which also involved the Kazakhstani business.
We expected, of course, that the first stage of the Karachaganak Expansion Project would be launched, but unfortunately, due to disputes between the government and investors on a number of issues, the implementation of this project has been suspended for an indefinite time. Therefore, pretty much all oil service companies are located in Tengiz. In general, we can say that the year was fruitful for Kazakhstan's oilfield services.
– At last year's Kazneftegazservice conference in Atyrau, it was said that information about upcoming tenders is not available to domestic suppliers of goods and services. As you can see, this process has been moved from the dead point – large operators have started publishing procurement plans on their corporate websites. How do you assess this step?
– Oil service providers always know about the needs of the production companies, because this is their bread. Production needs are similar everywhere, the only question is technological preferences and budget. Access to information allows to feel the scale of work but does not allow you to become a direct supplier of large oil and gas operators.
Since 2010, the government of the Republic of Kazakhstan, with the release of the new law "On subsoil and subsoil use", has obliged all oil companies to publish annual and medium-term procurement plans. This requirement is also preserved in the new Code "On subsoil and subsoil use". Planned and actual procurements of all oil companies are available on the portal of the Ministry of Energy of the Republic of Kazakhstan. The suppliers only need to register.
For example, at the beginning of February each year, we share procurement plans with businesses. However, we do not notice much enthusiasm on the part of business, everyone wants to "conclude a contract", not just numbers.
Regarding the publication of procurement plans by oil and gas companies on their Internet resources – this is an imitation of a heavy activity. Let's be objective, information without a budget, terms of tenders and a brief description of works and services is not of practical use. In addition, any plan can be adjusted. We depend on the situation in the global economy. A few weeks ago, we were happy that the price of oil was $70 per barrel, threw a hat in the air so to speak, and today the price is already $59. We can't predict what the price will be in March, it may be 40. In the event of a further decrease, investors can switch to saving mode at any time, which means that they can review their procurements.
Also, we can not discount the established traditions in this market in the form of lobbies, long-term relations of the oil trio with foreign companies. Therefore, Kazakhstan, represented by the government and oil service companies, still needs to work on increasing local content. I can't take this as a great victory, but it is undoubtedly a leap towards improving the situation of oil service companies, specifically in terms of the tender procedures of the three operators. Negotiations and disputes over this issue lasted for more than one year.
So far, there is nothing to boast about in terms of increasing local content in the procurement of the three operators. Major tenders are mainly won by foreigners. In rare cases it is the Kazakhstani business. Also, some foreigners have married citizens of Kazakhstan, registered a company for a spouse, and use their lobby, which they have developed in Europe or America.