Employer Awareness: Key Disabled Employment Obligations
Alexandr Chumachenko,
Associate, AEQUITAS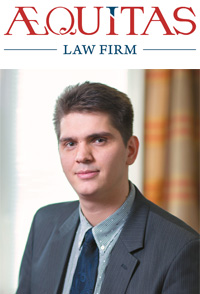 It is unquestionably common knowledge that people with disabilities need special approach and special attitude as a vulnerable category of the population. Kazakhstan, like many other countries, establishes through its legislation the main guidelines to provide the disabled with special treatment by society, as well as the minimum guarantees to which the people with disabilities are entitled. The state also establishes special requirements and conditions applicable to disabled labour, but in practice not all employers are aware of their pertinent responsibilities. Therefore, let us review the key statutory requirements relating to disabled employment.
Employment Quota
As one of the social protection measures against unemployment, the Employment Law sets employment quotas for certain categories of individuals. These categories include persons with disabilities who do not have medical contraindications to labour activities (i. e., those who are not prohibited to work in principle). A similar requirement is contained in the Disabled Social Protection Law .
The setting of quota means that the state establishes a minimum number of jobs the employers are required to ensure to employ persons with disabilities. The quota is set as a percentage of the whole staff of each particular employer, except for heavy work jobs and jobs with harmful or hazardous labour conditions (the quota takes into account the disabled persons already working for the respective employers).
The general size of quotas (from 2 to 4 per cent) is determined by legislation, but specific regional quotas for specific employers are set by local executive authorities (Akimats). For example, the Mayor (Akim) of Almaty has resolved to set the following disabled job quotas:
At organizations with 50 to 100 persons on payroll – 2% of the total payroll number;
At organizations with 101 to 250 persons on payroll – 3% of the total payroll number;
At organizations with 251 or more persons on payroll – 4% of the total payroll number.
Strictly legally, employers are required to provide jobs for persons with disabilities in accordance with the established quota within 6 months of the quota establishment (for example, in Almaty – from 17 November 2017). In order for the employers to meet their quota obligations, the local employment authority forms a database of persons with disabilities registered with employment centres and in need of employment (who are issued referrals for work at respective companies within the quota). The quota requirement is deemed met by employers, if the people with disabilities are employed in vacant jobs or in those allocated under the established quota, which is to be confirmed by the employment agreement concluded for a term of at least 6 months, the employers being also obligated to submit the relevant information in the approved format to the employment centre in the region concerned.
However, it should be borne in mind that quota requirements do not apply:
To organizations with less than 50 persons on payroll;
To public disabled people's associations and organizations where the number of persons with disabilities is more than 20% of the average annual number of employees;
To organizations based in the territory of populated localities where there are no unemployed working-age disabled persons who have no medical contraindications to labour; and
In statutorily prescribed instances where special conditions of employment in office or procedure for appointment to a position are defined.