We are Committed to Remaining One of Kazakhstan's Largest Foreign Investors
Interview for Petroleum with Dinesh Sivasamboo, Managing Director of ExxonMobil Kazakhstan Inc.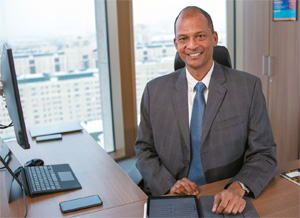 – It has been almost a year since you took up the leadership role for ExxonMobil in Kazakhstan. Looking back, could you please share some of the challenges and what you are looking to accomplish going forward?
– I am very honored to lead one of the most important affiliates in ExxonMobil's global portfolio. My role is to manage ExxonMobil's interests in our joint ventures – the Tengiz and North Caspian Sea projects and the Caspian Pipeline Consortium – the largest projects of the Republic. Kazakhstan's natural resources are a gateway to economic growth, job creation and technological advancement. Having worked in ExxonMobil for almost 28 years, I've had the opportunity to see firsthand how ExxonMobil works with governments and partners around the world to maximize these values.
Meeting the world's growing demand for energy involves a high degree of risk. The significant challenge that we share together is to advance our key projects in a safe and environmentally responsible manner. Today, ExxonMobil is one of the Republic's largest foreign investors with investments surpassing $25 billion. As a long-term partner of the Republic of Kazakhstan, we aim to remain focused on safety, cost discipline, and execution effectiveness by leveraging ExxonMobil's technical leadership and sharing our best practices and expertise. This is what I find the most challenging and exciting in this new role.
– Could you please share what is the status of ExxonMobil's projects in Kazakhstan?
– Let me start with Tengiz that continues to be world class across a wide range of measures including safety, environment and operational reliability. As you may know, in 2016 the TCO Partners approved the Future Growth Project-Wellhead Pressure Management Project (FGP-WPMP) – next major expansion of the Tengiz oil field. The FGP will increase daily crude oil production by approximately 260,000 barrels of oil per day (12 million tonnes per annum). In parallel, the WPMP maximizes the value of existing TCO facilities by extending the production plateau and keeping existing plants producing at full capacity. First oil is planned for 2022.
NCOC, which is the operator for the North Caspian Sea Production Sharing Agreement, has delivered many achievements since beginning of the ramp-up of production from the Kashagan field in 2016. The first major maintenance campaign, known as a turnaround, was completed successfully ahead of schedule in 2019. The Kashagan facilities have operated with world-class reliability, while keeping the employees focused on returning home safely to their families. Given that the combined safety, engineering, and logistics challenges in the harsh offshore Caspian environment make Kashagan one of the largest and most complex industrial projects currently being developed anywhere in the world, these achievements are quite notable. The joint venture continues to study and plan for growth opportunities to enhance production from Kashagan, which ranks as one of the largest oil discoveries in the past four decades.
Finally, Caspian Pipeline Consortium (CPC) continues to demonstrate excellent safety performance and reliability. The pipeline achieved an injury free year in 2019 and following the completion of the expansion project in 2018 it has successfully exported approximately 1,370,000 barrels of oil per day (63.3 million tonnes) in 2019, including volumes from the Tengiz and Kashagan fields. We were pleased that the consortium supported investment in a debottlenecking project which should allow an increase in exports to approximately 1,570,000 barrels of oil per day (72.5 million tonnes per annum) from Kazakhstan and the project is ongoing to deliver this additional capacity.
Of course, all these efforts are the results of strong cooperation between all the partners and the Republic. These are long-term investments and long-term projects, and therefore they require continuity and stability.
– You mentioned the importance of the stable business environment. In recent years, Kazakhstan has made changes and amendments to its investment and fiscal legislation for subsoil use projects. What is your view of all these ongoing legislative initiatives and does ExxonMobil consider new investment opportunities in the region?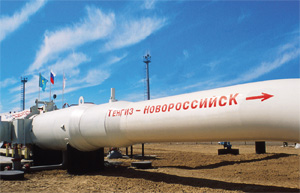 – All these efforts demonstrate Kazakhstan's broader commitment to enhancing its investment climate, which will enable this country to continue its growth as a leader in energy. The government plays a critical role in creating a healthy environment for projects to progress, as it establishes the framework within which the industry invests and takes on business risk. ExxonMobil strongly supports the Republic's ongoing initiatives to modernize its legislation in line with international standards, and we are committed to working with the government to progress further improvements.
Answering the second part of your question, ExxonMobil is always ready to evaluate new opportunities and invest in attractive projects.
– As one of the world's largest energy companies, how does ExxonMobil evaluate the world's growing energy demand and Kazakhstan's role in meeting this demand?
– We all know that energy touches nearly every aspect of modern life. In every minute of the day, we need energy to power all our needs - homes, schools, access to medical treatment, transportation, electricity, consumer goods. And what we see decades ahead is growth. Population growth, economic growth, and energy demand growth.
In fact, ExxonMobil's annual Outlook for Energy projects that global energy demand will increase by 20 percent by the year 2040, while the global population will grow from about 7 billion people today to nearly 9 billion people by that period.
Energy producing countries like Kazakhstan will be critical to meeting this enormous growth. Kazakhstan's natural resources have earned a prominent place on the global map of energy supplies and continue to help meet the growing demand for affordable energy.
The question is: how can we provide affordable energy supplies that support economic growth, and do so with a smaller environmental impact? This is our industry's dual challenge.
Ultimately, the key to meeting the dual challenge will be technology. Technology has been critical in economically meeting the world's energy needs. And technology will be critical in continuing to do so while protecting our environment. That's why ExxonMobil's research and development focuses on solutions to provide energy and cut emissions, including next-generation biofuels, carbon capture and storage, and manufacturing process intensification.
ExxonMobil also plays its part in implementing transformative technologies in our projects in Kazakhstan – from geoscience to reservoir engineering to advanced drilling technologies, thereby maximizing the value of the energy resources.
As we need integrated solutions that apply technology to every aspect of the energy ecosystem it is more important than ever that we focus on educating, developing, and retaining a highly skilled workforce to deliver energy projects. Through participation in the Tengiz and North Caspian Sea projects, we provide opportunities to develop technical expertise through on the job experience in our operated assets, training new hires with a combination of classroom-based education and targeted work assignments abroad. Furthermore, for the past five years, we have provided technical workshops for NC KazMunayGas and its subsidiaries delivering training to over 100 Kazakhstanis.
Last, but not least, ExxonMobil is an active supporter of community programs in Kazakhstan. Healthcare, education and community development are at the core of our community activities. I believe that all our initiatives bring lasting benefits to the local community and the Republic's role as a strategic partner and energy supplier for the world can only continue to grow.
– Dinesh, you have an impressive career path – from engineer to managing director of a company. What is the best career advice you could share?
– Each leader has their own view of what makes a successful career. Nevertheless, let me share my views: first, push yourself to take on challenges. Everyone fears change, but change is necessary to progress. Second, get the bigger picture – understanding the overall business will allow you to contribute to your maximum potential. Finally, invest in people by developing others and sharing the knowledge. Nothing helps deepen your own knowledge as effectively as sharing it.
– Would you like to say a few words about yourself? How do you like to spend your time outside of ExxonMobil?
– I am originally from Malaysia and began my career with ExxonMobil in 1992 as a machinery engineer. Over the years, I have held various technical and leadership roles in ExxonMobil's international projects. My wife Shannen and I moved to Nur-Sultan – our new home – last summer. After being stuck in an office environment all day, I really enjoy being outdoors and spending time exploring new things. We are enjoying the lovely hospitality shown to us and are immersing ourselves in the local culture. Besides Shannen is very good at languages, which comes in handy when we are out and about. She already speaks some Kazakh and Russian. I am a big fan of golf, so I look forward to the start of Golf Season this summer.