Minister Magzum Mirzagaliyev: «Kazakhstan aims to attract major investors in geological exploration.»
A year ago geological industry management underwent serious changes in Kazakhstan. A new state body - the Ministry of Environment, Geology and Natural Resources - was created, and the issue of the development of geology received higher status. In an interview with Interfax-Kazakhstan, Minister of Environment, Geology and Natural Resources Magzum MIRZAGALIYEV talked about the industry's plans, risks and opportunities in the face of the crisis caused by the COVID-19 pandemic, the prospects for new discoveries and much more.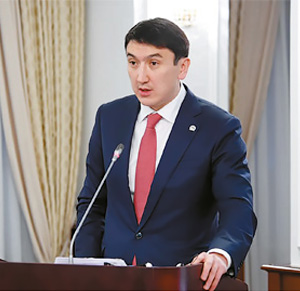 - Magzum Maratovich, the ministry you are heading up was created a year ago, and the development of geology was among its tasks. The country's leadership instructed the [ministry] to devise a strategy for the development of the industry, and the concept of the state program has already been approved. Is the COVID-19 pandemic very likely to make its adjustments to industry plans? Do you agree with the opinion that not the best times are coming for geology?
- The outbreak of COVID-19 has led to an unprecedented collapse in demand in global oil markets this year. Nevertheless, the OPEC+ agreement had a positive effect on the change in the oil price forecast in the short term. Against the backdrop of such trends, capital investment in exploration and production has declined globally. So, if in 2014 the total volume of capital investment in the world amounted to $700 billion, then already in 2020 this figure is projected at $400 billion. Under such conditions the competition for new investments in exploration and production becomes even more intense. According to the forecasts of the research and analytical company IHS Markit, capital investment in exploration and production in 2021 will decrease by 25%-60%, but at the same time beyond 2022-23 this market is likely to begin its slow recovery.
This crisis is deeper, the drop in prices is underway not only for oil and other energy resources, the total consumption is decreasing.
In such a situation, of course, support is needed in order to avoid laying off people and widespread unemployment. In this sence, the devised state exploration program for 2021-2025 should become a driver for the industry in the long term. Achieving the indicators set out in it is the key to the country's economic security in the future. In addition to all that, its implementation will provide employment and, accordingly, income for people. To this end, no adjustments are planned for the program.