Social responsibility is our voluntary contribution to overcoming the pandemic
Saule Dzhundubayeva, DBA (Kazakhstan, Russia, Switzerland), Chairman of the Board of Directors of Kazakh Corporation of Health and Medical Insurance INTERTEACH JSC
Interteach's social responsibility to society holds a vital place in the company's set of values.
For the Interteach network of clinics, social responsibility is not an abstract concept, but real action and the principles that come to life.
In the face of the pandemic, private clinics had to adapt to new conditions. Interteach has a special responsibility owed to thousands of insured clients that need attention, informing, therapy, and counseling.
Aware of the high medical and moral responsibility, we take into account the current difficult situation in Kazakhstan.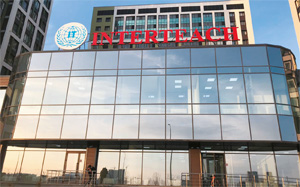 In these circumstances, it is crucial to reach out to those who have fewer opportunities to use qualified medical care. We decided to help the residents of the regions and are opening new PCR laboratories for medical tests, including laboratory testing to detect RNA of the SARS-CoV-2 coronavirus (COVID-19). Currently, PCR diagnostics (Polymerase Chain Reaction) is one of the most accurate and sensitive methods for diagnosing infectious diseases, including coronavirus.
Interteach has a new trend: doctors carry out online consultations, live broadcasts, and increased social networks activity. There are many questions. People do not know what to do and how to behave in the absence of clear information about coronavirus infection treatment.
In addition to compliance with the necessary safety measures, doctors of Interteach clinics contact patients with chronic diseases, conduct online consultations.
Interteach Medical Assistance LLP is practicing telemedicine for a long time, reviewing each case individually. Since the company has an extensive network of clinics and medical centers in the most remote areas of the country and serves patients throughout Kazakhstan, a quick solution is sometimes required through consultations of doctors via Skype or Zoom conferences. In such cases, consultations and treatment planning are done online.
We develop various insurance programs for our clients that include telemedicine services, and clients can receive remote consultations. In the future, the company plans to develop this area more actively, based on the use of modern communication and digital technologies for remote medical care and consultations. At the client's request, the company can develop individual insurance programs, which will only provide telemedicine services, including an unlimited number of doctors' interactions.
Telemedicine is a promising way to develop healthcare in terms of primary treatment, treatment of patients with chronic diseases, screening, and dispensary activities, and staff training and experience exchange. With telemedicine, early diagnosis and treatment of many diseases can reach a new level.
The practice of telemedicine is becoming more relevant in the current environment. For clinics, virtual services can significantly save the doctor's time and keep the client from traveling around the city during the quarantine. This is especially important for patients with chronic diseases.
The Interteach staff, which includes more than 2,500 medical personnel, employs the most experienced doctors, some of them since the company was founded. Many have scientific degrees and are Professors, Candidates of Medical Sciences. All clinics have modern equipped rooms fitted with the latest high-tech equipment.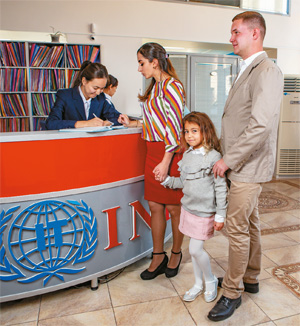 We have implemented a unified medical information system that allows us to coordinate a network of clinics. We use it to make centralized appointments and administer patients' cards and medical records. This approach allows us to organize high-quality patient appointments with our doctors. Our clients have the opportunity to quickly pass diagnostics, quickly identify the disease, and start an effective treatment. Interteach family clinics work on the principle of availability of medical services.
Another leading area of the clinics is the introduction of comprehensive annual service programs accessible to people. By implementing the principle of social responsibility, we consciously make our services as available as possible to the entire population.
It is necessary for each of us to be aware of our social responsibility to cope with the pandemic. We can only fight it through the joint efforts of the government, society, and business. Interteach's spirit of social responsibility is evident not only during the quarantine period. In difficult times for Kazakhstanis, the company strives to provide maximum support to the population through new projects and activities. We urge the government and the business community to actively promote the development of health care institutions that affect people's lives and health.
REFERENCE:
Interteach Corporation is a domestic and the first company to implement international infrastructure and technological standards of medical care and insurance in Kazakhstan.
Being a pioneer and founder of insurance medicine in Kazakhstan and Central Asia, Kazakh Corporation of Health and Medical Insurance INTERTEACH JSC is the only specialized medical insurance company in the country. The date of the foundation is 1989. In 1995, the company received the first license in Kazakhstan to conduct insurance activities (AN No. 0000001).
Interteach Corporation provides medical care in any region of Kazakhstan, Kyrgyzstan, Turkmenistan, and Uzbekistan. All Interteach clinics were successfully accredited. More than 500 Kazakhstani and foreign companies in various activity fields are our corporate clients and have access to an integrated service system throughout the Republic of Kazakhstan.
The company's infrastructure includes 32 own medical centers throughout Kazakhstan, more than 190 medical teams, 64 own ambulances, more than 2,500 full-time medical personnel, and more than 450 contract medical organizations.
New clinics are being opened in Nur-Sultan, Aktau, and Atyrau:
Address in Nur-Sultan: Yesil district, Kabanbay Batyr Ave., building 48/6. The area is more than 14,000 sq.m; the number of insured individuals is more than 10,000.
Address in Atyrau: 48 I. Taimanov Ave, Block K. The area is more than 1,500 sq.m; the number of insured individuals is more than 35,000.
Address in Aktau: 12 micro-district, 22/1. The area is more than 1,000 sq.m; the number of insured individuals is more than 10,000.