Chevron brings innovations and progress to Kazakhstan
The COVID-19 pandemic impacted global demand for energy products, combined with other factors that have further affected the balance of supply and demand, and hit the whole industry.
Chevron had started a global reorganization process prior to the pandemic. It helped us secure a strong position with a solid balance sheet, a high-graded portfolio of top assets around the world, a secure dividend for our shareholders, and a robust long-term future for the company. Our corporate strategies remain unchanged with the focus on delivering higher returns with lower carbon emissions, in a world that is increasingly focused on energy transition.
The stability of Chevron in the past and for the future has allowed the company to play a significant role in Kazakhstan. Chevron currently holds stakes in two out of Kazakhstan's three largest producing oil fields: Tengiz and Karachaganak and Chevron is the largest private shareholder in the Caspian Pipeline Consortium.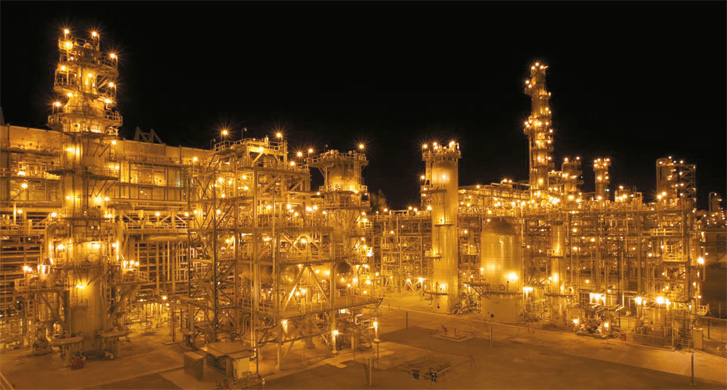 We are very proud of our more than 27 years of partnership with the Republic which started in 1993 with the establishment of the Tengizchevroil (TCO) joint venture.
Since then, Tengiz has become a world-class, top quartile performing asset - the leading energy producer in Kazakhstan, contributing about 30% of total oil and gas output.
We consistently deliver world-class results in safety and all aspects of operational excellence including reliability, efficiency and environmental stewardship.
We rely on technology and innovations to enhance productivity of our assets which has helped us maximize production and ultimate recoveries from very complex subsurface structures and reservoirs. Indeed, Tengiz is one of the most challenging oilfields in the world with a depth of 3800m and high amounts of sour gas with H2S of around 13%.
Since 1993, Economic benefits for Kazakhstan from our operations are remarkable. Chevron's investments in Kazakhstan exceeded $40 billion.
TCO has contributed over $150 billion in direct payments to Kazakhstan's budget, and $35 billion into local goods and services. We have also made significant contributions in these same economic impact areas from Karachaganak.
We create thousands of jobs. In addition to direct hires, our local spending supported 81,000 jobs. For every job provided by Chevron, another 29 secondary jobs were supported in Kazakhstan.
Lastly, Chevron and partners are currently implementing the TCO Future Growth Project - Wellhead Pressure Management Project (FGP-WPMP), which is the next major expansion of Tengiz that will dramatically increase oil production by 40%, and by 2023 TCO will be producing approximately 1 MMBOEPD. The project is 80% complete and will continue benefiting Kazakhstan and its people.
Key to successful investment for the future
Beyond FGP-WPMP, TCO has a tremendous amount of value remaining with billions of barrels of additional reserves yet to be produced. Successful investment in these opportunities will be dependent on the application of new technologies, development of local content, and collaboration with key stakeholders.
Applying advanced technologies to produce energy is not new to Chevron. Our constant push for innovation allows us to provide energy more affordably, safely, efficiently, and with a smaller environmental footprint. Chevron's global technical expertise helps us find advanced solutions to increase the productivity and safety of our assets.
For example, TCO has outlined a series of digital initiatives in a multi-year plan - the TCO Digital Roadmap - to apply digital technology in support of business goals. Technologies help allocate resources, manage product life cycles; get access to real-time data; use augmented and virtual reality to increase safety and reliability of the asset. These will help ensure TCO remain a top quartile performer.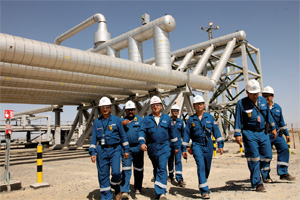 A couple real-time examples of digital solutions at TCO are related to management of COVID-19. One is the Crew Change System – which is a portal for submitting crew change requests and approvals for transportation, isolations, accommodation, PCR test scheduling and capacity planning, and the second is the COVID-19 Register – an integrated web-based system for submitting PCR test requests, field PCR sample collection, and automated data exchange with 3rd party laboratories for PCR test results. In total TCO has administered more than 78,000 PCR tests. These technologies have been critical in managing the extremely complex COVID situation at TCO.
Another key to future investment is local content. In his address to the nation, on September 1st, President Tokayev emphasized the importance of economic diversification for the nation.
Chevron supports this important goal. We are currently in the process of developing new investment opportunities that will help develop Kazakhstani content in the areas of Manufacturing and Services, Technology and Digital, and Environmental Stewardship. This work is in progress and we hope to deliver tangible results in the very near future.
Building Kazakhstan's Capacity & Capability through Innovative Social Investments
A key focus area for Chevron's social investments is supporting Kazakhstan's next generation with the development of new skills and knowledge that help build the country's capacity and capability. Chevron supports innovative start-ups and helps school and university students develop into tomorrow's leaders.
Our programs deliver technological knowledge and skills when training young generations of Kazakhstanis:
The Atyrau Youth Development Initiative and the Atyrau Youth Palace we've commenced this summer are Chevron's innovative approaches to effectively prepare young people for career success in the future. With the help of computer and media labs, fabrication laboratory and workshops they will be able to develop technically complex inventions and discover new interests and talents, share ideas, and plan for the future of the region and the country.
The ITeachMe projects embrace diversity and inclusion and aim to educate young people with disabilities. Workshops given by prominent IT trainers help them learn basics of project management, design thinking, public speaking, develop leadership and soft skills. Out of 200 young people with disabilities who passed through the training, almost 50 people received part time and full-time employment.
Chevron supports Kazakhstani girls in their desire to acquire new-for-women IT specialties and establish their own start-ups. The Camcare safety device invented as part of the program let the Chevron supported team win in the world Technovation challenge and get internships in Google.
As Chevron has demonstrated for the last 27 years, we look forward to continuing application of world class operating experience, bringing new technologies, developing local content, and collaborating with key stakeholders to stimulate the future wave of investment opportunities.
We admit that partnership is the key for our success. In Kazakhstan, and around the world, we keep using human energy, technologies and innovations to protect our assets, customers, workforce and communities to respond emerging challenges and achieve economic prosperity.