Lessons from the pandemic for Karachaganak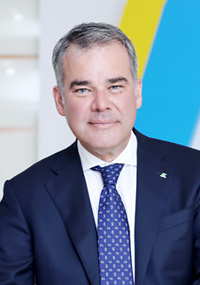 Edwin Blom, General Director of Karachaganak Petroleum Operating B.V. (KPO), in an exclusive interview with Oleg Chervinskiy, publisher of Petroleum Journal, tells about the company's work in the context of the pandemic, the progress of implementation of investment projects, and prospects for the development of the Karachaganak field.
– Mr. Blom, the last six months were very tragic for the global oil and gas industry since too many factors converged at the same time: the COVID-19 pandemic, the drop in oil prices, and production limitations imposed as part of OPEC+ deal. Your company is in the leading position. How has your company been coping with this situation? Has KPO's production performance been as planned, or has KPO had to cut production?
– Obviously, there have been impact of the pandemic on our personnel, and I am not only referring to the pandemic, but overall economic consequences: decline in oil and gas demand and the overall economic situation in the country and the world.
Our basic performance metrics for this year show that we are coping well in terms of both, personnel safety and ensuring safety of the production facilities. Speaking particularly about our production, it is progressing in accordance with the targets approved by the Authorities. By the end of September, we produced over 8 million tons of liquids - about 4.5% above the targets.
We did not need to bring down our production, neither for COVID nor for OPEC, which were imposed on some operators. In addition, another key indicator for KPO is the re-injection of gas, which allows us to maintain the production level, and that one is also in accordance with the targets.
Despite of what we are achieving within 2020, I would never call this year good due to its impact on our employees, but overall we are doing well.
– Many companies in Kazakhstan and in the world had to reduce capital expenditures and scale-down investment programs. Just before this crisis, you started implementing a project to extend production plateau at the Karachaganak field - what about this Plateau Extension project, would it not be subject to cost reductions?
– Activities under the Karachaganak Field Production Plateau Extension Project which had approved investments are ongoing as planned, especially the KGDBN and 4ICP projects. There were some delays on different aspects which were caused by the pandemic situation, since some equipment had to be delivered from abroad and many KPO and Contractor personnel had to travel from other RoK regions or abroad. In other words, the delays we had were mostly related to logistical issues; however, KPO together with its Contractors managed the construction works as planned and even exceeded the targets.
Projects which are in planning phase are being prepared for shareholders and stakeholders investment decision. Of course, we would like that all the planned projects under the Karachaganak Expansion Project to progress not only because of the production, but also because after the projects in construction have been completed, some of these available construction resources need to be redirected timely to support construction works for the planned projects to support local workforce, or else issues relating to human resources may arise.
– I hope that your shareholders and investors will make a timely investment decision…
– Due to the current worldwide situation, our shareholders face constrains in capital expenditure. Hence, in addition to a stable investment climate in Kazakhstan, for KPO projects to succeed within the portfolio choices of our investors, these projects must be competitive. We are confident that with the currently delivered progress on our construction works, and the next set of Karachaganak Expansion Projects, we are competitive and hopefully obtain the funding from our shareholders.
Meanwhile, I would like to note that it is very important that the decision on Karachaganak Expansion Projects investment progresses timely in order to maintain our activities.
– What was the impact of the pandemic on your company? We saw situation with your neighbours when the whole Atyrau region was locked down for sanitary isolation. KPO managed to limit the number of cases to a minimum…what did KPO do that other companies did not, and how did your company manage to control the pandemic?
– I want to be careful in comparing KPO to its neighbours, because I do not know the situation that our neighbours had to deal with. KPO has also had its challenges and cases, therefore I am not going make any comparison. However, for KPO there were some fundamental things and actions were timely taken.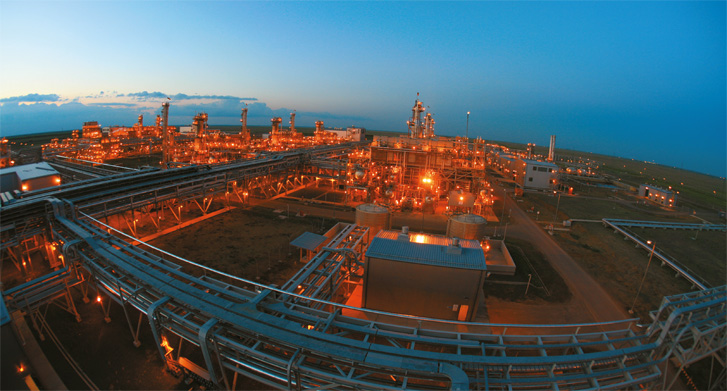 – What is the total number of cases in the company to date? - Can you provide some numbers?
– I would not like to mention the exact numbers, because there are different approaches on how to count and lead to incorrect comparisons. KPO tracks every case, including whether a person got a coronavirus at work, or off-shift at home, or in isolation - we simply tracked every case. A major factor that had helped KPO was the good relationship already established in the prior years between KPO and local and regional Authorities, such as Health departments and Akimats.
As a first step, we significantly reduced travel for all people who could bring in the virus. At the same time we extended the shifts of those who were already on-shift. In addition, we reduced the footprints in all offices to very low levels.
KPO additionally introduced very strict measures such as wearing face masks, gloves, hand hygiene and use of sanitizers, etc. Further, logistical issues were also resolved with certain restrictions: passenger placement in the busses and dining options in the canteens were organized in accordance with the requirements of the sanitary doctors.
Despite of the fact that KPO took rather strict measures to control the spreading of the coronavirus, the virus eventually entered our company. In addition to the tracing of contacted people by the state authorities, KPO also traced people who fell sick of coronavirus and their contacts. All of them were supported by our Health Department, and those under treatment even by our Special Care team.
Regardless to all measures taken, one of our colleagues died from coronavirus on 16 of July, after medical treatment in Aksai hospital. His death was unexpected for us. Of course, this case showed to everyone how serious this frightening disease is, and that we need to take it very seriously, especially taking into account that we have thousands of people in the camps during the construction projects.
– When you spoke about delivery of investment projects, you mentioned that there were some logistic problems and that is quite understandable taking into account the closed borders and cancelled international flights. How did you solve the issues with transportation of expats and national employees arriving on shift from other regions of the country?
– These travel restrictions had a massive impact on us, because a very large part of our national staff in addition to our expat staff works on rotation.
The two critical factors were that we transferred a significant number of our staff onto remote working regime. Our staff worked remotely from their homes within RoK or their countries of residence, in addition to conducting extensive pre-shift and post-shift PCR testing, for some jobs we executed the PCR testing on a weekly basis.
Surely, we needed to bring in people to maintain our operations, which we achieved by obtaining permissions from the Interdepartmental Commission for entry of those employees, whom we needed to be on-site for certain required activities.
– There is an opinion that problems with logistics of people have demonstrated the oil companies that it might make more sense economically to accelerate nationalization of local personnel in order to avoid import of workforce from abroad. What would you say on this?
– If we have someone available with the required skills and experience, we do not need a pandemic to nationalise that position, as it is more cost effective for KPO from the economical point of view to change from expat to local staff.
The situation with pandemic has accelerated some of these changes, where transition was planned within the next few months. We have already agreed with the Authority quite an aggressive downsizing of expats just before the pandemic, and obviously we have been exceeding our prior expat reduction agreements, resulting in reducing more expats than planned.
– How reduction of expatriate workforce is taking place? Are their positions being taken over by national specialists, or are the positions held by expats generally reduced within the company Organisational Chart?
– It is a mixture of both. For example, when the construction finishes and all works under are completed, the expats leave and positions are reduced. However, this is specifically related to projects. As for production and engineering staff, the local personnel take over expats positions as planned when they are ready.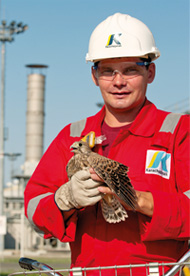 – Did you have to lay off Kazakhstani employees during pandemic? For example, this might be for different reasons: a project ended and not only foreigners were working on it, etc? If so, what happened to these Kazakhstanis?
– There is only one reason – either reduction or completion of work. For example, we had to stop drilling operations because of the pandemic. The drilling operations company had no possibility to keep these people. While these reductions were not directly impact KPO staff, it did have an impact on the staff of contractor companies who are providing services for KPO.
Staff who work in construction are used to the fact that each project has a start and an end, and that they have to move on to another project. I will not comment on Sicim, because it's Sicim's job to comment on the KGDBN construction. But, I know that many of contractor workers are now being employed in elsewhere, as for example Tengiz is gradually ramping up its operations.
I would like to repeat that it is very important for us to get the final investment decision on Karachaganak Expansion Project, because those who have worked on our previous projects have gained tremendous experience and we would like to retain that experience.
– You mentioned already how KPO cared about the people during the pandemic. As far as I know, KPO provided extensive support to the local community and medical organisations - can you please tell us a little bit more about it?
– Our activities are fundamentally based on a friendly neighbourhood principle together with the friendship between KPO and the local community, which is in place since decades. We must rely on our neighbours and maintain this friendship.
Amid the pandemic KPO has helped the local community by donating around 3 billion Tenge. This was not a mere transfer of money to the local authorities since this would require them to be engaged in the search and purchase of medical equipment. Instead, KPO has used its expertise to find, buy and deliver the necessary items during the scarcity. For example, the lung ventilators, which was not an easy task. We were greatly supported and given all the help we needed by our parent companies, and I would also like to acknowledge a great support by PSA Authority, in terms of providing approvals promptly for the procurement and delivery of equipment for regional and district hospitals.
The list of equipment our company has provided to local community amid pandemic ranges from a really complex expensive medical equipment for Intensive Care Units and lung ventilators to PPE, such as face masks and gloves, and everything else in between.
– Another action of KPO was also quite unusual considering such a difficult situation. I mean that the company has allocated an additional $10 million for the needs of the region in addition to the usual investments under annual social program. How did you make such decision?
– These $10 million actually cover 3 different yet very important components, not only for one but covering several years.
First of all, the money will be used to upgrade the Aksai Hospital trauma unit to international standard, including training for the doctors and nurses. The upgrade of the Hospital is not only in the interest of the Burlin region, but also of KPO. We do our utmost to prevent accidents by having quite strict safety rules. However, in case of an accident or injury we want to make sure that our employees and contractor staff stand a good chance for recovery at the highest possible level. This is a 5 year programme, and after this period the hospital trauma unit should have an international certification.
The second project is a professional training centre. Again, it is not only for the benefit of our Company, but for the entire region. This is to train local residents from the oblast and enable them to take over certain roles within KPO and contracting companies in the future.
The third project covered by these $10 millions is to finalise reconstruction activities in Berezovka village, the residents of which were relocated to Araltal microdistrict several years ago, as well as addressing some issues of draining system in Araltal.
All works in terms of these three components, shall be conducted in close cooperation with local Authorities on the basis of a government decree.
– Talking about the lessons learnt from the pandemic – one of the lessons is that there is a possibility to transfer some parts of business processes into digital format. Possibly, this step can even improve efficiency. In this regard, what conclusions has KPO made and what IT projects do you plan to launch in the nearest future?
– We developed a digitalization roadmap in 2018-2019 and are currently implementing them in the field or in office processes.
For example in the field as for digitalization, we are doing dynamic network modelling and also exception based surveillance. In order to get more data from our wells, we are implementing a telemetry project over the next few years.
In the office domain, Marketing is a department where significant digitalization is taking place. This department has processes across the different directorates in the company with important and transactional data.
As for the digital signatures, they were used in the company for some time and the situation with pandemic has demonstrated how efficient it is. It is not about the tool particularly, but many other aspects needed to be addressed and people realised that it had to be done. As everything had to be swiftly transferred to the remote mode, so people could still sign documents from their computers or any other gadgets using their digital signatures.
In conclusion, I would like to say that the overall impact of the pandemic on the world is massive. We, as KPO, have to be humble in celebrating our success, and need to continue to do our utmost to continue to generate income for the Republic of Kazakhstan and provide jobs for our people with the support of Authorities, Shareholders and Contractors.
– Thank you Mr. Blom for such an interesting interview.