KPO announces new General Director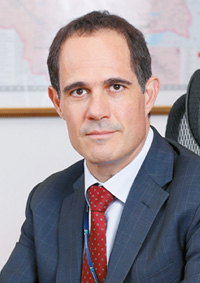 Karachaganak Petroleum Operating B.V. (KPO) announced 2 June 2021 that Giancarlo Ruiu will lead KPO starting June the 2nd 2021 as the new KPO General Director, replacing Gabriele Giona, who has been appointed for Eni in Egypt as Managing Director of Agiba Petroleum Company.
"I would like to welcome the new KPO General Director, Giancarlo Ruiu, and wish him great success with his new assignment. I am confident that his valuable experience and strong leadership skills will greatly contribute to the continued success of KPO", said Gabriele Giona.
Giancarlo Ruiu has twenty years of widespread experience within the oil & gas industry, both in Kazakhstan and overseas, where he held managerial roles covering the full cycle of exploration, development & operation and business development.
In his most recent assignment he held the position of Head of Surface Program in ADNOC / UDR, the JV of Eni in Abu Dhabi. Earlier he held the roles of Managing Director in Eni Ghana and Development Phase 1 Director in the North Caspian Operating Company.
Giancarlo's strong professional background and good understanding of Venture's business performance will greatly contribute to KPO's overall efficiency.