October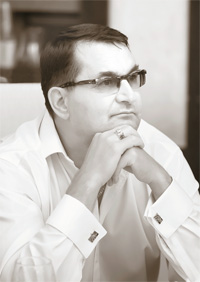 The XIV Eurasian KAZENERGY Forum has become more than just a forum – after one and a half pandemic years, it, held in October in Nur-Sultan, marked the beginning of a return to normality.
And even if not all speakers managed to fly from distant countries, and the Forum was held in a hybrid (online and offline) form, it, like the KIOGE exhibition held in the capital on the same days, inspired people with hope. Hope that the virus will be defeated and life will return to normal.
However, this Forum is remembered not only for this. Never before (and I participated in almost all) at this main event of the year, the words green energy, decarbonization, energy transition did not sound so often, along with the traditional oil, gas, production. This is not surprising. Humanity has finally realized that the fourth industrial revolution can, like any revolution, in the words of French politician Georges Jacques Danton, "sacrifice their children." The irrepressible consumption of non-renewable energy sources and natural resources threatens irreversible climatic and human-induced consequences for our planet. To avoid this, all countries need to revise their economic models radically, including Kazakhstan. More details about this can be found in the report from the KAZENERGY Forum and the review of the National Energy Report-2021, published in this issue.
First Vice-Minister of Energy, Murat Zhurebekov, talks about the prospects for the extraction and processing of gas in Kazakhstan, which for many years was considered a by-product of oil production, and in recent months has acquired a value greater than oil.
At the same time, the analytical department of the journal has prepared a study on hydrogen technologies that are actively conquering the world, but not yet Kazakhstan. In the "Neighbours" section, it will be interesting to read the practical advice of Alexander Sharov, Director of RusIranExpo, on how to build a business with Iranian companies. The iron curtain in Iran will fall sooner or later, and its market will open to the world.
In December, we will celebrate the 30th anniversary of Kazakhstan's Independence. In the December special issue of the journal, we will recall the main milestones and pages of the history of oil independence. We invite you to collaborate! And see you in December!
Best regards,
Oleg Chervinskiy, Publisher