December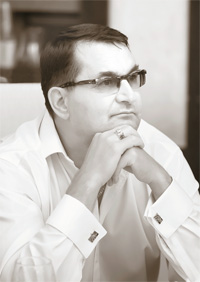 Dear readers, dear friends!
You are holding a special issue of the journal dedicated to the anniversary of the Independence of Kazakhstan.
Independence Day is a special holiday in the history of each state. The 30th anniversary of sovereign Kazakhstan is a moment of pride for the country that succeeded and confidently entered the world club of global oil exporters.
Three decades are like three stages in the development of the oil and gas industry. The first, which began in 1991 with the collapse of the Soviet Union, became a period of survival. On the wreckage of the unified national economic complex of the former Soviet Empire, it was necessary to create a self-sufficient economy of independent Kazakhstan, to prevent the shutdown of fields and oil refineries, to fill the treasury with money. Kazakhstani oilmen coped with this task.
The second stage, the symbolic start of which was the commercial discovery of the unique Kashagan field, was a time of significant investments. During it, large-scale production projects are being implemented in Tengiz and Karachaganak, preparations are underway to start production at Kashagan, global transport arteries are being built to deliver Kazakhstani oil and gas to world markets.
And finally, the third decade was a period when the efforts of the government, national companies, and specialized associations were aimed at using oil revenues to the maximum benefit for Kazakhstan. This is the time of the domestic oilfield service development, the nationalization of personnel on large projects, complex negotiations with investors on changing the profit-sharing formula, and increasing domestic content.
New time – new challenges. The tasks of the new decade will be the Great Reset – Industry 4.0, Green Transition, careful and environmentally responsible development of the Caspian shelf.
We tried to rethink the history and the future of the Kazakhstani oil industry on the pages of the special issue of Petroleum. In it, interviews and memories of pioneers alternate with analytical reviews, stories about the history of major projects, including forecasts for the future. I hope that this special issue will become a memorable page in the multi-volume chronicle of sovereign Kazakhstan's oil and gas industry!
Happy Independence Anniversary, Country!
Best regards,
Oleg Chervinskiy, Publisher