February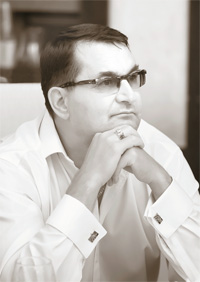 Dear readers!
The issue of the journal you are holding in your hands is unusual. At first glance, its key theme, green energy and sustainable development, is far from the problems of oil and gas production
But this is not the case. All of humanity is now in the same boat. The unrestrained growth of consumption and intensive development of natural resources in recent decades have led to irreversible climate changes and the stratification of society. Previously, it seemed that these problems were somewhere far away, in developed countries that produce three-quarters of the gross world product. The January events in Kazakhstan demonstrated the need for sustainable development for each country, Yerlik Karazhan, whom many of our readers remember from his work in oil and gas companies, and now an international expert on sustainable development, writes in his research.
Kazakhstan currently ranks 5th in the world in terms of GDP carbon intensity and 11th in terms of per capita emissions. Will it succeed in a couple of decades to take place in the net-zero club of states, or is it doomed to remain a third-world country and pay cross-border taxes for the right to export its products? An important question.
More significant progress is visible in Kazakhstan in the renewable energy industry. In this regard, we present an interview with the Honorary General Director and member of the Board of Directors of the Association of Renewable Energy of Kazakhstan Arman Kashkinbekov. It is noteworthy that large oil and gas concerns are also actively engaged in renewable energy and have begun a global transformation towards a green future. The analysis of Olga Savenkova from Rystad Energy shows the strategy chosen by oil and gas majors in different countries.
However, the development of alternative energy does not mean the decline of traditional energy. At least, the oil and gas workers themselves are sure of this. Their consolidated point of view was well expressed by the Head of Rosneft, Igor Sechin, whose speech we also publish in the special issue of the journal.
We are at the very beginning of an extensive discussion about our green future. And it will be continued on the pages of Petroleum.
Best regards,
Oleg Chervinskiy, Publisher