Powering Progress Together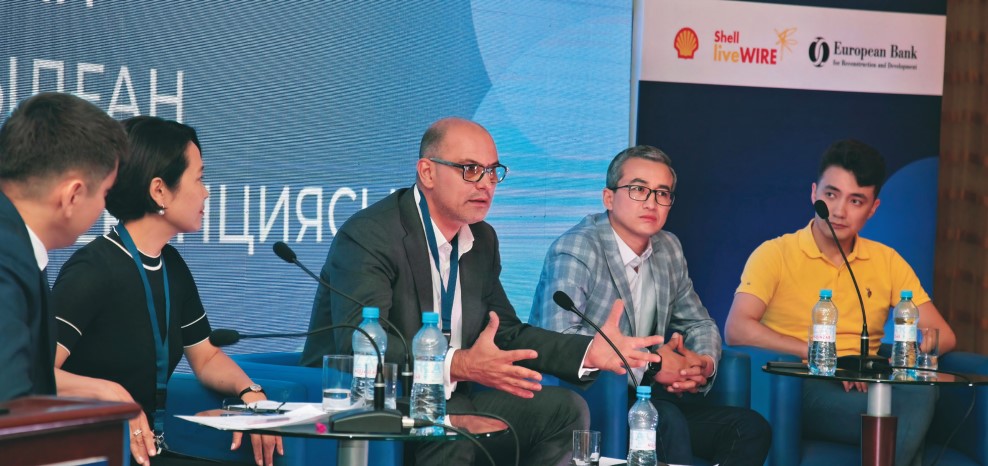 In today's world, regardless of where you live, when you see a red and yellow shell pecten, it is not the sea that you first think of. For this emblem has long since been associated with the globally renowned energy giant – Shell. That also includes our country. Shell and Kazakhstan founded their partnership when the latter had only just emerged as a young independent state. And 2023 is marked with the 30th anniversary of Shell's operation in the Republic of Kazakhstan.
Three Decades of Partnership
Hard to imagine but Shell's history in the Caspian region dates back to the XIX century. It is the first company to ship kerosene from Baku to South-East Asia around 130 years ago. And a hundred years later the company became one of the first investors to decide to make business in the Republic of Kazakhstan, a young country that had just gained its independence. Shell's investments in the local energy sector have totaled $18 billion, ensuring a top position among foreign investors.
In Kazakhstan, Shell is involved in oil and gas sector with shares in the following projects:
North Caspian Production Sharing Agreement (Kashagan Project, 16.81%)
Karachaganak Final Production Sharing Agreement (Karachaganak Project, 29.25%)
Caspian Pipeline Consortium (7.4%)
Powering Progress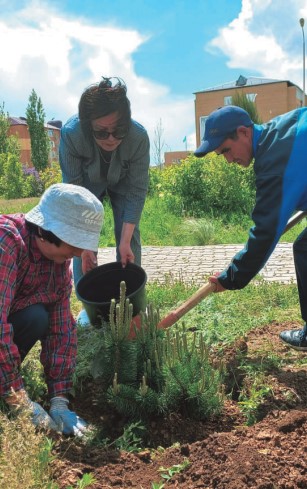 As time goes by, global communities shift their focus with regard to energy transition. So did Shell when it announced its development strategy "Powering Progress". With the strategic goal of contributing to progress by providing a wide range of clean energy solutions, the strategy defines four main areas: achieving net-zero emissions, respecting nature, powering lives, and generating shareholder value. This well-balanced approach to problem-solving allows Shell to play an important role in the energy transition.
In addition, Shell has always abided by the principles of social responsibility and care for the environment. Particularly, Shell has been investing in various social projects during its entire presence in Kazakhstan and has always placed a special emphasis on doing so.
As part of its obligations under the production sharing agreement, a certain portion of costs of the joint ventures – where Shell is a partner – is allocated to supporting the social infrastructure. To date, these investments have amounted to around $1.5 billion. These projects include construction and equipment of education, healthcare, culture, sports, and other facilities in the regions of Shell operations. Additionally, Shell runs a number of voluntary social investments focused on solving critical social problems. Thus, in thirty years Shell has amassed a portfolio of several strategic projects in Kazakhstan. Shell supported the innovation-driven development program of the country when it led – along with the partners – the creation of the Kazakhstan Upstream Oil and Gas Technology and R&D Roadmap. This led to the implementation of new technologies in the industry not only to boost oil production but also to identify new oil and gas resources. Shell and KazMunaiGas National Company were at the forefront of putting the roadmap into practice, launching a project aimed at improving one of the most promising areas – geochemical studies. In 12 months, Shell experts designed and built a modern geochemical laboratory complex in Atyrau, which is currently providing unique geochemical analysis services for oil and gas both locally and internationally.
Investing in Young Talents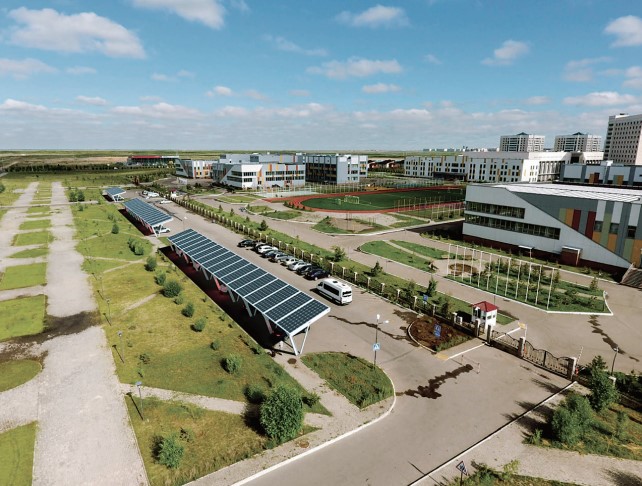 Building the potential of young people is another important part of voluntary social investments. Shell is working on a number of projects to promote STEM (Science, Technology, Engineering and Mathematics) education. One of them is Student Energy Challenge – an intellectual team competition that Shell leads in collaboration with the KAZENERGY Association. The idea for the project came into being during the Expo-2017, where Shell presented its unique pavilion, one of the exhibition's top 5 most visited facilities. Student Energy Challenge aims to stimulate the students at technical universities and colleges to develop innovative research projects. Since its inception, the competition welcomed 320 teams from universities and 45 teams from colleges.
One of the components of Student Energy Challenge is Shell NXplorers, a program developed by Shell to help improve complex and critical thinking skills of youth so that they master taking the systematic approach to solving complicated challenges. In Kazakhstan, Shell NXplorers programme was also transferred to Nazarbayev Intellectual Schools and is taught through NXplorers competition at the schools of West Kazakhstan and Atyrau regions. Annually, 600 university and school students complete the training and design their projects to build a sustainable future.
Furthermore, to promote environmentally friendly innovative thinking, Shell Kazakhstan supports the participation of Kazakhstani students at Shell Eco-Marathon, a global competition focused on energy optimization, where participants design, build and compete for the most energy efficient car. Every year since 2017, at least two teams have represented Kazakhstan at the Asia-Pacific and Middle East branch of the competition.
Another education project is cultivating future oil and gas specialists. For that, Satbayev University was selected as the 'pilot' higher education institution. This project connects the students with world's leading experts and professors, who share their experiences in applying teaching methodologies as per global standards. University professors are provided support in preparations for PhD degrees and R&D projects. In addition to that, Shell experts provide guest lectures.
New Businesses, New Jobs
Shell's social investment in Kazakhstan is not limited to academia. Shell Kazakhstan has also been supporting employability and entrepreneurship since 2013. Currently, this endeavor is carried out through Shell LiveWIRE and ORLE projects.
Shell LiveWIRE is a global strategic initiative for enterprise development. It helps young entrepreneurs turn their ideas into sustainable small and medium sized businesses. Since 2018, Shell LiveWIRE has trained over 2000 entrepreneurs, helped open 60 new businesses and create more than 700 jobs.
ORLE is a pilot project that helps vulnerable social groups in West Kazakhstan to learn new skills and build their micro-businesses. Along with basic applicable skills and business thinking, best performing participants receive grants for further realization of their projects.
Safety in Shell DNA
Protecting the health and safety of its staff and of the general public is engrained in Shell's DNA. Therefore, Shell and its international partners initiated a road safety project which reaches out to over 50 000 people annually. It includes conducting trainings and educational activities for road users to reduce traffic accidents and, subsequently, fatalities in West Kazakhstan.
Solar for Schools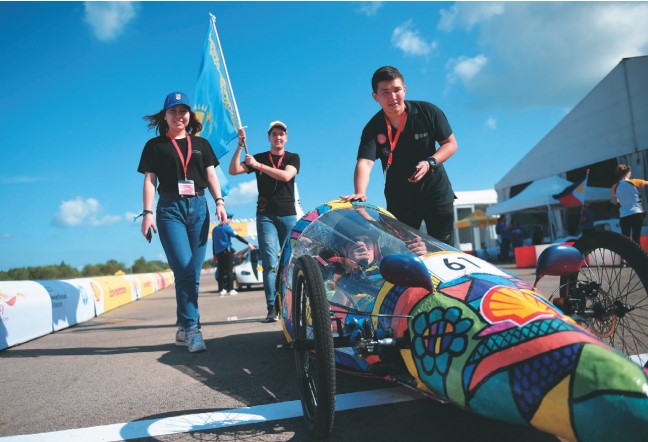 Another social interest for Shell Kazakhstan is environment. In 2018 it launched Solar for Schools with its partner AEO Nazarbayev Intellectual Schools (NIS). Under this project, Shell Kazakhstan has installed solar panels in NIS schools of Astana, Aktau, Uralsk and Atyrau, and is wrapping up the installations at the Turkistan NIS.
This initiative is a special platform for the development of smaller-size production facilities and distribution of energy generated from renewable sources at a national scale. It is Shell's contribution to the efforts of Kazakhstan to achieve carbon neutrality by 2060, reach target indicators for renewables and reduce greenhouse gas emissions.
Cooperation with the Civil Sector
Shell Kazakhstan and the Civil Initiatives Support Center joined their efforts in running the EcoBatys project for environmental initiatives among NGOs. The project supports civil society organizations in addressing local environmental issues of West Kazakhstan, Atyrau and Mangystau regions through provision of trainings and project grants.
NGOs are trained in the Eco-Incubator and selected for grants in the following three areas: rational use and protection of water resources; protection, remediation, and sustainable use of land; conservation and rational use of biodiversity and ecosystems.
Contributing to the economy of Kazakhstan with its large-scale activity, taking part in joint ventures and making direct investments, including into infrastructure projects, Shell makes its contribution to the socio-economic development of the country. And this care is an important part of Shell's work, which focuses on country prosperity, today and in the future. Thirty years of active presence in Kazakhstan is evidence of steady and long-term partnership between Shell and the Government of Kazakhstan, a partnership that only strengthens year after year and sets the cornerstone of success for many decades to come.