Orlen and KazMunayGas Fail to Agree on Rompetrol Price
Negotiations between KazMunayGas and the Polish state-owned energy conglomerate PKN Orlen regarding joint investment in the Romanian assets of the Kazakhstani national company have come to an unsuccessful end.
The talks began in May of last year when the president of the Polish conglomerate, Daniel Obajtek, flew to Astana to meet with the head of KazMunayGas, Magzum Mirzagaliyev. The Kazakhstani side did not comment on the subject or the outcome of the meeting, possibly due to the sensitive history of the issue and the initial failed attempt to find a strategic partner.
KMG International, through 54.63% of Rompetrol Rafinare shares, owns controlling stakes in the Romanian refineries Vega and Petromidia and a network of fuel distribution in Europe, Turkey, and Georgia. The remaining 44.7% and 0.7% of shares are owned by the Romanian government and public investors, according to the KazMunayGas IPO prospectus. According to information from the central depository posted on the Bucharest Stock Exchange website, KMG International directly owns 48.1% of Rompetrol shares.
How Much is Rompetrol Worth?
KazMunayGas purchased Rompetrol Group N.V. from Romanian oligarch Dinu Patriciu in 2007 for $3.6 bln USD. Later, approximately $1.4 bln was invested in upgrading a refinery in Romania. Additionally, under pressure from the Romanian government in 2018, KMG agreed to establish a Kazakh-Romanian Energy Investment Fund with a mandatory investment volume of $150 mln USD and the possibility of implementing investment projects worth up to $1 bln USD.
In particular, with this funding, the Kazakhstani investor committed to building a new power plant on the premises of the Petromidia refinery, which would supply energy not only to production facilities but also to the city. The second project for financing is the expansion of the gas station network in Romania. Having spent a total of over $5 bln USD on the Romanian asset, KMG International only received its first profit from it in 2015, amounting to $4.6 mln USD.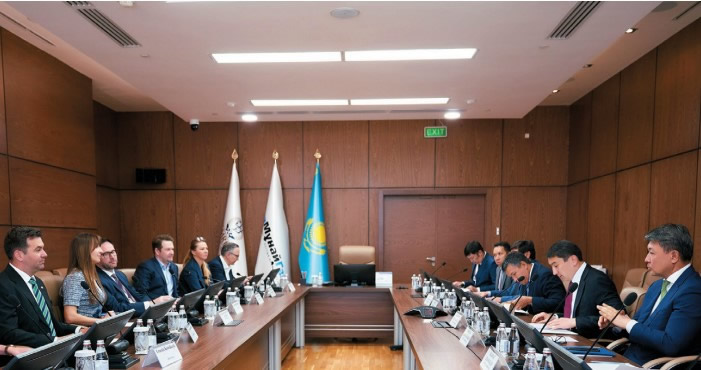 Delegation of Orlen during talks in Kazakhstan (Twitter D.Obajtek)
Beijing Buyer
In December 2015, it was announced that KMG had found a strategic partner for the development of oil refining and marketing capacities in Romania. A year later, on December 19, 2016, in a celebratory atmosphere in Bucharest, coinciding with the 25th anniversary of Kazakhstan's independence, an agreement was signed for the sale of a 51% stake in KMG International between KazMunayGas and the Chinese investment fund CEFC China Energy Company Limited. The deal's amount was not disclosed, but according to Chinese media, it ranged between $0.5 and $1 bln USD, which hardly seemed like a significant victory against the backdrop of the already invested $5 bln.