Kashagan: Giant Project for the Benefit of Kazakhstan
Abound in everything,
In fertile soil
With pastures juicy and green
To flesh the cattle
That kissed by the sun
And caressed by the wind
Was too heavy to get to its feet
Its rivers with water
So fresh and cool
Were full of silver fish!
Kashagan Kurzhimanuly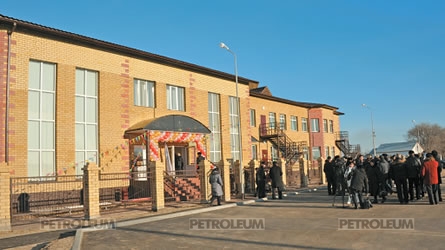 Nursery for 160 kids in Damba.
This is precisely how zhyrau Kashagan Kurzhimanuly, after whom one of the world's largest oil field was named, wanted to see his land. After a difficult and sorrowful life, could he have imagined that, many decades later, his name would be linked with the country's hopes and aspirations to join the ranks of the world's leading suppliers of energy resources? But one thing would certainly have pleased him: the fact that development of the field bearing his name is bringing and will continue to bring benefits to the people to whom he dedicated his verse.
Since the time it became Operator of the NCSPSA, North Caspian Operating Company B.V. (NCOC), which acts on behalf of a Consortium of seven international companies- KazMunayGas, Eni, Shell, ExxonMobil, Total, ConocoPhillips and INPEX - has not just been developing the Kashagan Project, but acting also as a socially responsible company, making a significant contribution to the development of Atyrau and Mangistau Regions.
As a sign of recognition of its achievements in the sphere of implementing Social and Infrastructure Projects (SIPs) and Sponsorship and Donation Projects (S&D) in both regions, the Consortium won the Silver Prize for the best social project of 2011 in "Paryz" Contest.
A sound and efficient system for SIP implementation has been put in place: As a rule of thumb, SIPs are proposed by the regional Akimats which, of course, is quite natural as they know the needs of the local community better than anyone else. The Akimat sends its proposal to NCOC which analyzes it jointly with the Authority for compliance withrequirements of the NorthCaspian Sea Production Sharing Agreement and the Consortium's sustainable development strategy.
The Consortium has already achieved a lot: Between 1998 and the end of 2011 more than 142 projects were completed in Atyrau and Mangistau oblasts in close collaboration with local authorities. Among the projects in Mangistau Region was the school for 640 students in Atameken, the pediatrics unit for 30 kids in Fort Shevchenko, the gasification project in the settlement of Zhan-Daulet, etc.
Among the projects built under the SIP programme was the kindergarten for 160 children in the settlement of Damba, Atyrau Region, which was fully furnished and equipped.