Interteach Has Opened a New Clinic in Atyrau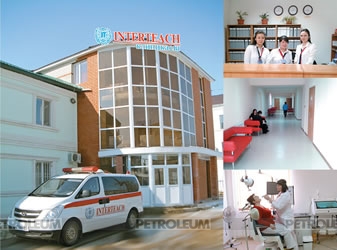 Interteach Has Opened a New Clinic in Atyrau
The company Interteach Medical Аssistance, within the frames of expansion and improvement of a spectrum of rendered services, has opened a new clinic in Atyrau with a total area of 2100 sq. m. located at the address: Vladimirskogo Street, 98 A.
The Clinic has a round-the-clock service of rendering emergency medical assistance, a Call-centre and dispatching service. Round-the-clock hospital is functioning in the Clinic with single VIP-rooms.
The Clinic is equipped with state-of-the-art diagnostic equipment corresponding to the highest requirements of medical quality and safety (ultrasonic, X-ray equipment, reanimation, clinic-biochemical laboratory, including the conduct of immune-enzyme examination).
There are operated three gynecologic rooms, a stomatologic room, surgery with an operational block where small surgical operations are conducted, a physiotherapeutic room, a procedure room, a massage room, an ENT room with endoscopic investigation (ear, nose, throat) on the newest equipment.