Beginning of the Domestic Petrochemistry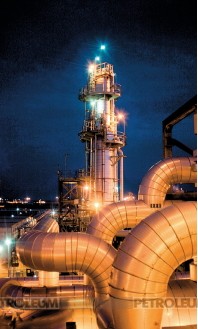 The Company Kazakhstan Petrochemical Industries Inc. provided to Petroleum actual information on the "Construction of the First Integrated Gas Chemical Complex in Atyrau Region" Project.
The "Construction of the First Integrated Gas Chemical Complex in Atyrau Region" (IGCC) Project is realized within the governmental program of the petrochemical industry development in the Republic of Kazakhstan and provides gas processing from the Tengiz oilfield and production of petrochemical production with a high value-added. Construction of polypropylene production complex with a capacity of 500 thousand tons per year is the first stage on creation in the region a petrochemical cluster with the subsequent receiving hi-tech basic production of branch. The project realization is enabled in Atyrau Region in the Special Economic Zone (SEZ) "National industrial petrochemical park", located at 35 kilometers from Atyrau. The operator's project is Kazakhstan Petrochemical Industries Inc. LLP (KPI Inc.). The general contractor is Sinopec Engineering Group (PRC).
In the present day, the project operator received the positive decision from the State expertise of design and budget documentation.

Short description of technology, licensors, list of objects
IGCC consists of two technological facilities: one facility for propylene production via propane dehydrogenation and another facility of propylene polymerization for receiving the final product – polypropylene. Within implementation of the project, it is supposed to develop and construct new infrastructures: own gas-turbine power plant, water treatment constructions, pipelines of fuel gas and water, power lines, automobile and railway crossroads, etc.
For implementation of the project, the newest technologies of Lummus Technology Inc. Company have been chosen: Catofin Technology of propane dehydrogenation and Novolen Technology of polypropylene production. Lummus Technology Inc. Company is the recognized leader all over the world on licensing of petrochemical productions according to which license hundreds enterprises are constructed.
Lummus Catofin Technology of propane is the unique technology that allows making propylene from propane with the greatest selectivity and degree of conversion in production quantities. This technology is acquired by 20 companies in the world, 14 from which successfully operate their productions.
Lummus Catofin Technology of propane dehydrogenation represents the process of hydrogen abstraction from propane for receiving of propylene on a motionless layer of the chromia-alumina catalyst. Dehydrogenation reaction takes place in 8 reactors with controlled sequence of reaction and heating/regeneration for the following raw materials party. Conditionally dehydrogenation facility can be divided into hot and cold sections. The hot section is necessary for reaction and propane transformation into the propylene, while the cold section is used for cleaning and allocation of a desirable product from reaction by-products. Process of dehydrogenation allows to receive propylene fraction with the minimum propylene content of 99,5 mol %.
Lummus Novolen Technology is the leading technology on polypropylene production. Annually worldwide are produced more than 7 million metric tons of polypropylene on Novolen Technology. Along with gomopolymers, in which structure there is only propylene, this technology allows to produce static and shock-resistant copolymers, in which structure there is an ethylene or other monomers. Polypropylene production process on Novolen Technology represents gas-phase reaction with the participation of Ziegler-Natta catalysts or metallocene catalysts. Propylene participates in the reaction as the main raw material and ethylene or others co - monomers, as well as hydrogen, which acts as the substance controlling molecular weight. Polymerization reaction conditions temperature, pressure and concentration of reacting substance are defined by produced polypropylene marks. Polypropylene is formed in the form of powder which melts, mixes up with additives and formed in granules by an extruder.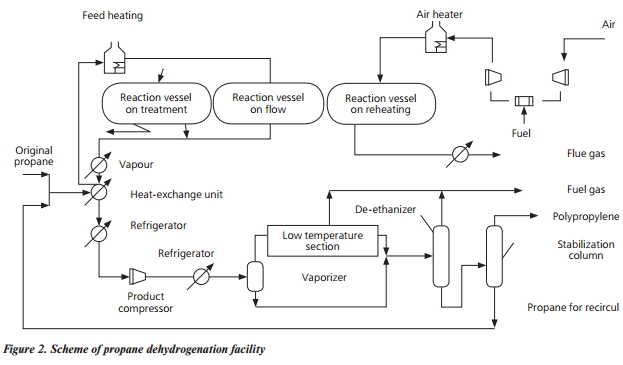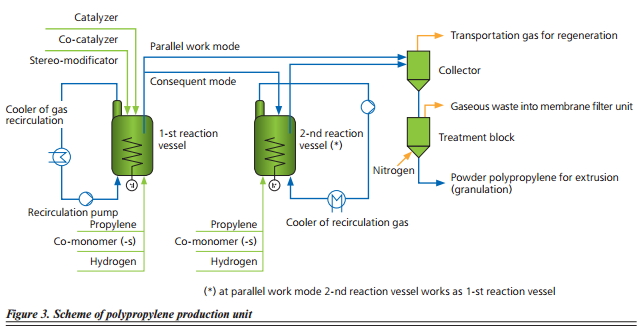 Personnel Training
Today KPI Inc. has deficiency both at highly specialized personnel and experts of general directions. There are some good reasons. Atyrau Region is known as one of the most industrially developed regions in Kazakhstan, with the greatest concentration of foreign companies and national oil companies which social package can be characterized as "steadily growing". Unlike the large foreign companies, KPI Inc. has no brand of a successful employer as the Company history just begins.
Within the general concept of the Kazakhstan content increase in staff, the question of national personnel training is particularly sharp.