Kashagan and the Tulips for the People of Kazakhstan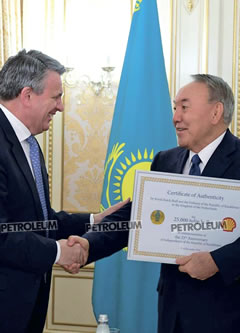 On 7 December 2016, Mr Ben van Beurden, the CEO of Royal Dutch Shell plc and other seniors of the North Caspian Sea PSA Partners attended the official ceremony in Atyrau dedicated to the start of Commercial Production at the Kashagan Field.
Mr van Beurden presented a unique gift to the RoK President Nursultan Nazarbayev on the occasion of the 25th Independence Anniversary of the Republic of Kazakhstan: a certificate for 25.000 tulip bulbs of the "President Nazarbayev" variety specifically bred by Dutch florists.
In May 2014, during the Nuclear Security Summit a new variety of tulips called the "President Nazarbayev" was unveiled to the President of Kazakhstan, and in May 2015, Mr van Beurden presented His Excellency with freshly cut flowers of this variety during their bilateral meeting in Astana. The tulip bulbs dedicated to Kazakhstan's Independence Anniversary were delivered to Astana with the support from the Embassy of the Republic of Kazakhstan to the Kingdom of the Netherlands led by His Excellency Ambassador Magzhan Ilyassov.
Speaking at the meeting with the President, Shell's CEO noted: "I am proud to be here and celebrate a significant milestone reached by NCOC partners, employees and the citizens of Kazakhstan - Kashagan Commercial Production. This achievement marks the start of a new era, not only for the oil and gas industry but for Kazakhstan as a country. This will significantly impact its economy, employment and local content development.
Presenting the gift Mr van Beurden highlighted: "Today is a special day also because it is preceding the 25th Anniversary of Kazakhstan's independence. When I first met with the President, I presented him a new variety of tulips – "President Nazarbayev". As a token of respect between our nations, this time I have brought with me 25.000 tulip bulbs that will be planted in Astana".
Head quartered in the Hague, the Netherlands, Shell is an international group of companies comprised of energy and petrochemical companies. Shell is one of the largest foreign investors in the RoK's economy.