"Altyn Zhurek" Met in Almaty
Some wish so that all children were happy and grow up in happy families. Others so there is no one abandoned and lonely. And still others want to change the world. But there is one day a year when all golden hearts of Kazakhstan are gathered in one place. On October 27 in Almaty, 10th anniversary ceremony of national Altyn Zhurek Award took place at the Kazakh State Academic Theatre of Opera and Ballet named after Abay.

Celebreties congratulated the prizewinners
The idea to commemorate the most active philanthropists of the country was born in 2007 in Baurzhan public fund, permanent president of which is Zhuldyz Omarbekova. And to this day, Altyn Zhurek1 remains unique, and perhaps kindest award in Kazakhstan, which is conferred to people who are never short on sincere affection; those who throughout the year do not get tired of giving care to others.
The founder of the Award Zhuldyz Omarbekova says: "Altyn Zhurek is a work of my life . For ten years I am a witness of a countless number of good deeds, I am grateful to every participant of the Award for them. Because of your selflessness and kindness this world becomes a little bit better and brighter!".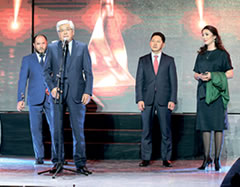 PetroKazakhstan Vice-President B.Issengaliyev hands over the award for 'Organisation of the Year'
Altyn Zhurek Award is the story of thousand destinies, examples of kindness and mercy, which, like a treasury, has gathered all the brightest human values. "Golden hearts" is exactly how you call those who daily shows the example of empathy to the society. According to the Organising Committee, over the lifetime of the Award, 95 individuals and organisations became its laureates, more than thousand people submitted applications for participation.
Nominations selection is carried out by the Expert Council and the Public Council. The Expert Council consists of 20 recognised representatives of non-governmental organisations, public authorities, media and business. The Council selects only 33 nominees for the awards from growing number of applications (for example, this year there were more than 200 of them). And among them the Public Council selects 11 laureates. And members of both councils are carefully considering the evidence on all the candidates, provided by the organisers (certifying documents, reports, photos and videos, etc.). All procedures are absolutely transparent, and the one who got a majority of the votes of the representatives of the Expert and Public Councils becomes a laureate. For this reason the winner does not raise any doubts.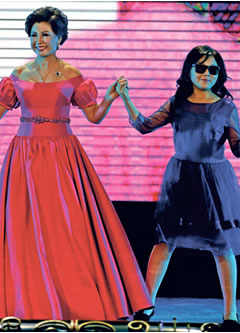 Roza Rymbaeva made dreams of young singer to come true
For over ten years in the end of October the residents of of different towns and villages are gathering in one place to be wrapped up in atmosphere of celebration, love and joy for one evening. The current Tenth Award is no exception: a solemn atmosphere was already felt in the hall of the Opera Theatre, where guests were greeted by a traditional photographic exhibition "One hundred good deeds". The organisers needed quite a few stands to tell those present about only a small part of good deeds committed by Altyn Zhurek nominees for 10 years.
The nominees and laureates carried out charity work amounting to more than 110 billion tenge; 55 schools and 35 hospitals were built and repaired, more than 20 kindergartens opened, repairs were conducted in homes and apartments of more than 5000 veterans, 30 sports schools constructed, more than 3000 lives of seriously ill children were rescued.