Olivier Lazare, Shell Kazakhstan: 25 Years of Successful Operation in Country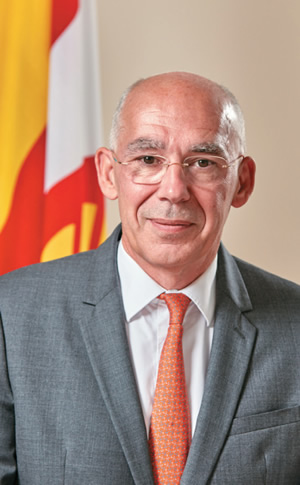 – Mr. Lazare, last year you were appointed as the Country Chair of Shell in Kazakhstan. Having a 30-years of work experience in many countries, you are very well familiar with local markets as well as investment climate in different countries. What would you say about Kazakhstan?
– I assumed my role as Vice President and Country Chair for Shell in Kazakhstan in September last year. I would like to note that I am very familiar with the CIS region, as prior to this appointment I was overseeing Shell's business in Russia for almost four years. To me, Kazakhstan is a unique country! It is not only by the immensity of the country but also by its economic power and geopolitical influence in the region. For more than two decades Kazakhstan has made an eminent journey of a remarkable development and now has become the leading country in Central Asia.
Shell's business in the Caspian region began over 100 years ago, when Shell was the first to ship kerosene from Baku to South-East Asia. In the early 1990s, the company became one of the first foreign investors to establish a presence in Kazakhstan, when the company was involved in appraisal study of the country's hydrocarbon reserves. We at Shell are proud of the contribution we have done for the Kazakhstani people and economy in general.
With an investment to date over $15 billion dollars, Shell is one of the largest foreign direct investors in Kazakhstan. Shell has interests in four projects in Kazakhstan:
The North Caspian Sea Production Sharing Agreement (Shell's share - 16.81%)
Karachaganak Final Production Sharing Agreement (Shell's share - 29.25%)
Pearls Production Sharing Agreement (Shell's share - 55%), and
Caspian Pipeline Consortium (Shell's share - 7.4%).
In all our operations we provide and deploy cutting edge technology, expertise, and rigorous safety standards. However, there is still a lot of work to be done. I believe we must help create local businesses which are competitive in the medium to longer term. They should not only be competitive with foreign suppliers in Kazakhstan, but in the future also to be competitive and able to export outside of Kazakhstan, to the international market. It is also about developing local talent and creating competitive jobs for locals skilled workforce.
– Shell is one of the shareholders of the North Caspian Consortium developing offshore fields in the Kazakh sector of the Caspian Sea (NCSPSA). Can you please tell about the status of this and other projects with your participation?
– Start of production at offshore Kashagan field was an important milestone for us. Kashagan is a key asset for the company and one of the most challenging projects in the world. NCOC N.V. is NCSPSA project Operator. Kashagan project shareholders: Shell (16.81%), Eni (16.81%), CNPC (8.33%), ExxonMobil (16.81%), Inpex (7.5 %), KazMunaiGas-Kashagan (16.87%), and Total (16.81%).
Minister of Energy of Kazakhstan announced the project startup in October 2016. Phase 1 production capacity has reached up to 300,000 barrels of oil per day (365,000 barrels of oil equivalent per day with the produced associated gas). Today the project focuses on safe ramp-up targeting to produce 370,000 barrels per day as soon as possible. Shell's top priority for Kashagan is to provide maximum support for NCOC N.V. to ensure safe operations. At the moment NCOC N.V. is looking into different options of increasing the raw gas injection capacity by either upgrading the existing injection compressors or installing additional separate machines offshore. This project will ultimately increase the oil production capacity up to 450,000 barrels per day. In addition, NCSPSA partners are looking into potential joint development of Kalamkas and Khazar fields.
The combination with BG Group two years ago enlarged Shell's operations further. Shell, through its affiliate BG Karachaganak Limited, is now a joint operator, with Eni, of the giant Karachaganak field. Karachaganak Petroleum Operating B.V. (KPO) operates the field through a joint venture (Shell's share - 29.25%, Eni - 29.25%, Chevron - 18%, LukOil - 13.5%, KazMunaiGas - 10%). The Karachaganak field is one of the world's largest gas and condensate fields. It holds estimated hydrocarbons initially in place (HIIP) of 9 billion barrels of condensate and 48 trillion cubic feet (tcf) of gas, with estimated gross reserves of over 2.4 billion barrels of condensate and 16 tcf of gas.
Since the signing of the FPSA, KPO's partners have invested over $23,7 billion into developing the field, applying industry leading technology aimed at maximizing sustainable economic value. This is being implemented in accordance with the highest safety and environmental protection standards. In 2017, production at KPO reached a record level of 146 million barrels of oil equivalent in the form of stable and unstable liquids, raw gas, and fuel gas. In addition, 9.3 billion cubic metres of gas were re-injected to maintain reservoir pressure, a volume equivalent to approximately 49.1 per cent of the total gas produced.
I am proud to say that the current performance of Karachaganak is world class and credit goes to all those involved in our day to day operation, including our local contractors. KPO and Partner Companies are planning to deliver Plateau Expansion Project, a portfolio of projects aimed at sustaining liquids production.
– Shell is the major shareholder of the CMOC (Pearls) project. It was stated that joint development of Khazar and Kalamkas-sea projects can be implemented. What are the prospects for this project?
– Pearls is our so called «new growth project» in our portfolio. With our partners at NCOC N.V. we are considering options for maturing of the joint Khazar and Kalamkas fields development project. It's complicated from commercial perspective as it involves two different PSAs and a number of partners. But we are just about to get it moving. Consider that after the 'big three' projects, which were all initiated 20 years ago, there has not been a new major development in Kazakhstan. We hope to change that soon.
Shell share in the project is 55%, other shareholders are: Oman Oil (20%) and KazMunayTeniz (25%). Caspi Meruerty Operating Company B.V. (CMOC) is the joint operator of the Pearls PSA, where partners are KazMunayTeniz (40%), Shell (40%) and Oman Pearls Company Ltd (20%). When hydrocarbons were discovered at Khazar-1 in 2007 and at Auyezov-1 in 2008, another two successful appraisal wells were drilled in Khazar structure. The work is ongoing on further development of the project concept.
– Can you please tell about your involvement in the Caspian Pipeline Consortium?
– Shell's share in the Caspian Pipeline Consortium is 7,4%. It is a major international crude oil pipeline system to transport oil from western Kazakhstan (mainly Tengiz, Karachaganak, and Kashagan) to the Black Sea near Novorossiysk in Russia. The pipeline system which commenced operations along its full 1,500 km length in 2001 comprises a new-build line and marine terminal facilities, and an upgraded pipeline with the expanded capacity of 67 mtpa after completion of Expansion project in 2017.
– Shell is one of the initiators of «Kazakhstan Oil and Gas Technology and R&D Roadmap», endorsed by the President of Kazakhstan. In the frameworks of the Roadmap Shell developed and launched first-ever in Kazakhstan laboratory complex for geochemical studies. What are the plans with further implementation of key directions of the R&D Roadmap?
– The Roadmap, which was collectively developed by the industry brought government, business and research perspectives together, aligning these stakeholders around common goals and technology needs. The Roadmap was endorsed by the President of Kazakhstan in 2013 and its implementation has been monitored by the Ministry of Energy. Using it as a guide, operators and investors were endeavoring to co-ordinate their activities in the priority areas and explore steps to overcome common challenges collaborating together.
Shell and KMG were first to respond to the President's call by launching a pilot to address one of the priority challenges identified in the roadmap. This related to geochemical capabilities, which are vital in finding more hydrocarbons with the least number of wells and in developing fields at a competitive cost. In April 2015, we deployed a state-of-the-art geochemical laboratory in Atyrau, the first in CIS. The laboratory is using a wide range of new technologies, including 'geochemical fingerprinting', which is key to addressing some of the industry's major challenges in Kazakhstan. Today, the laboratory is offering independent, high-quality geochemical analyses to the whole oil and gas industry in Kazakhstan and to the neighboring countries. This represents a real success story not only for the industry but for Kazakhstan as a leader in innovative development.
Shell continues to further support the implementation of the Roadmap by addressing other pressing challenges facing the industry in Kazakhstan. We look forward to progressing this work in the years ahead. We believe that the Roadmap provides opportunities for even more collaboration, not just between oil companies, but between operators and local suppliers, to create synergies and identify common solutions, at a time when the industry is facing some significant challenges.
– Five years ago, the Concept to Green Economy transition was approved by the RoK President's decree. Is Shell involved in this important undertaking?
– Yes, we are. On 6 September 2016 the RoK's Ministry of Energy, JSC KazMunaiGas, JSC KazTransGas and Shell Kazakhstan signed the Memorandum of Cooperation (MOC) which aims at joint assessment and possible implementation of a number of key initiatives in line with the RoK's strategic objectives. The MOC aims at strengthening the long-term relationships between the Parties and defines the key aspects of the co-operation.
MOC, in 2018 we launched a pilot project named «Solar for Schools». This pilot project, which is the first of its kind for Kazakhstan, is designed to serve as a platform for a nation-wide development of sustainable small-scale distributed energy market in country to further support Kazakhstan efforts in its transition to Green Economy. The project also aims to provide support in the development of Kazakhstani SMEs and to stimulate the interest of Kazakhstani youth towards science, technology, engineering and mathematics (STEM) programmes.
In conclusion, I am delighted to note that this year is marked with 25th Anniversary of our presence in country. Shell has achieved a great deal over the past years thanks to our efficient and true cooperation with our partners and the Government of the Republic of Kazakhstan. I am confident that our partnership will evolve further for the benefit of Kazakhstan.