Strength in Unity. Aktau Declaration on Joint Actions
Raushan Naizabayeva
What is the Aktau Declaration?
The conceptual project of Kazakhstan local content development or Aktau Declaration on Joint Actions was signed in September 2012 by the national company KazMunayGas and three operators: Tengizchevroil, Karachaganak Petroleum Operating B.V. and North Caspian Operating Company. The Aktau Declaration is an expression of the consent of companies that are not legally binding to develop areas of cooperation and principles of joint work to support the Kazakhstani (local) content. All these years, operators continue to follow the document.
The task of the conceptual project is to create synergy by developing common mechanisms for the development of programs for the development of local content of all operators, investors, and government agencies. First of all, the document was needed for the national company and the three operators to have a basis for an open exchange of non-sensitive and non-confidential information to further develop new joint initiatives. At the same time, the document does not exclude the right of everyone to evolve strategies for the development of local content independently.
Since the document was signed, operators annually develop an Action Plan for the Aktau Declaration, by which they hold working meetings, forums and monitor synergetic progress. The sectoral working group, consisting of representatives of the national company and operators, coordinates its efforts with the Ministry of Energy (formerly the Ministry of Oil and Gas), the Ministry of Industry and Infrastructure Development (formerly the Ministry of Investment and Development), the Ministry of National Economy, as well as with control bodies and non-governmental organizations such as the KAZENERGY Association, the KFICA (Foreign Investors' Council chaired by the President of Kazakhstan).
The conceptual design for the development of local content should not conflict with the relevant production sharing agreements (PSA), management systems and procedures established by these companies, and antitrust/antimonopoly or other legislation, or any other laws applicable to one or more parties.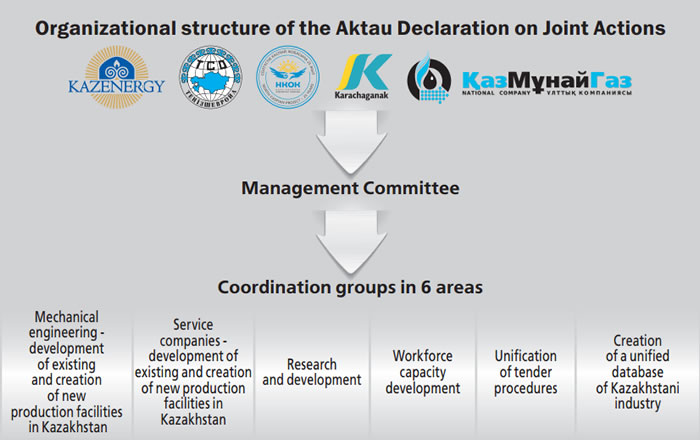 What is done?
Over six years of work, the Aktau agreement has proved that consolidated cooperation gives a synergetic effect. One of the first and most important achievements was that the operators identified and agreed on the TOP 10 commodity codes for the development and localization of production. And although local content is still not calculated separately for each commodity unit, for Kazakhstani business this list is a kind of mini road map for future projects.