ELORDA 2019: Partnership, Will to Win and Team Spirit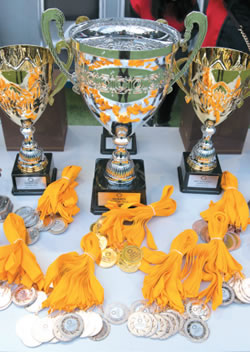 For the second year in a row, Shell Kazakhstan has been holding a charity mini-football tournament – 'Elorda 2019'. This year, Astana Arena Stadium gathered 16 teams from oil and gas companies and state authorities of the Republic of Kazakhstan, who participated in the tournament devoted to the 120th anniversary of the Kazakhstan oil. Best football players out of employees of the RoK Ministry of Foreign Affairs, RoK Ministry of Energy, RoK Ministry of Ecology, Geology and Natural Resources, JSC Samruk-Kazyna, KAZENERGY Association, International Center for Green Technologies and Investment Projects, as well as Shell Kazakhstan, Chevron, Tengizchevroil, JSC KazTransOil, Karachaganak Petroleum Operating, North Caspian Operating Company, PSA LLP, Total Kazakhstan, and Eni contested for the title with the reigning champion - JSC NC KazMunaiGas team.
Asset Magauov, RoK Vice Minister of Energy noted importance of the event at the opening ceremony.
- Such sports events help unite various companies and organizations at one site and this is great, – said Asset Magauov.
Bolat Akchulakov, General Director of KAZENERGY Association highlighted the benefits of such contests.
- Today, we have an excellent opportunity to get to know each other in sports which is a healthy competition, where we show our spirit and see what our colleagues are capable of. All this is to develop and unite energy sector of Kazakhstan – said Mr. Akchulakov in his welcoming speech.
All teams put their hearts into the game, spirit of competitiveness and will to win could be felt at Astana Arena. All controversial moments were settled by professional referees of the judiciary committee of the Nur-Sultan Football Federation led by main referee. Medical aid was provided by professionals from Alanda clinic.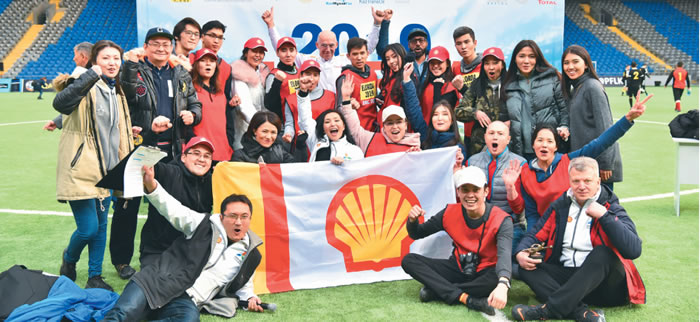 Shell Kazakhstan Team
Teams from JSC NC KazMunaiGas and SWF Samruk-Kazyna made to the finals. Both teams showed fantastic spirit and excellent fit but KMG team was luckier and won with a score of 2:1, thus becoming a two-time winner of 'Elorda 2019'tournament!
KazTransOil team and bronze medalists of the previous year – a team of the RoK Ministry of Energy – contested for the third place. KazTransOil football players showed excellent team game but their rivals from 'Energetika Qanattary' team got a cup for the third place.
The judges also identified winners in individual nominations. This year 'Elorda 2019' saw participationof better half of the humankind and some of them won Audience Choice Awards. Ainash Meirambekova from NCOC team received an award from the Kazakhstan Oil and Gas Industry Trade Union. Shell Kazakhstan handed special awards to Assel Khamitova from Eni and Aigul Tazabekova from the MoE 'Energetika Qanattary' team.
Prizes were also handed to the most prominent players. 'Elorda 2019' 'Top Goal Scorer'went to Nurzhan Kadyrov from KMG who hit the back of the net 6 times.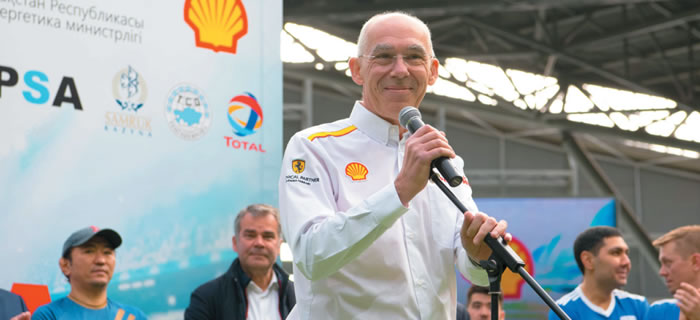 Olivier Lazare, Shell Kazakhstan Country Chair, opens 'Elorda 2019'
Anatoly Leontiev from Shell Kazakhstan team was recognized as the 'Best Goalkeeper'of the tournament. Abuseit Chabikov from KazTransOil received an award for being the 'Best Defense Player'. And the nomination that caused biggest controversy among the judges went to Yevgeniy Perov from Samruk-Kazyna and he was recognized as the 'Best Player'of 'Elorda 2019'.
Special awards were handed to the teams as well. The team of the Ministry of Ecology, Geology and Natural Resources received a fair-play trophy. 'Karachaganak' team was given a cup for striving to the victory and the best team spirit trophy went to NCOC team – 'Kashagan Eagles'.
'Elorda 2019' is a charity event. The oil and gas companies transferred money to the 'Solnechny Mir' Fund that helps kids and teenagers with Down Syndrome. The event organizers decided to recognize the best fundraiser and handed the 'Charity Cup'to Eni.
This is how 'Elorda 2019' tournament went. This was indeed a festivity of friendship, unity, cooperation, and healthy competition.