Kazakhstani Jewel in the Crown of Chevron
John Baltz, Managing Director of Chevron's Eurasian Business Unit responds questions of Oleg Chervinsky, publisher of Petroleum magazine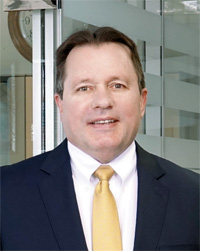 – Mr. Baltz, how would you position the Caspian region in the global Chevron's portfolio? I heard that Tengiz is «a jewel in the crown of Chevron». Is it just a beautiful metaphor or it's a real «jewel»?
– Chevron, as you know, is a global energy company. We operate in countries all over the world. Tengiz is one of the valuable assets in our global portfolio. Let me tell about the characteristics of Tengiz and associated Korolev field to give you an idea of its size. The Tengiz field has about 3.2 billion metric tons of oil in place. And adjacent Korolev field has 200 million metric tons of oil in place.
When we think about recoveries we expect to receive from Tengiz and Korolev, it starts from about 900 million to about 1.4 billion metric tons of oil. You can see that those are world-class assets.
Tengiz venture was formed on April 6, 1993, thanks to the vision of the President Nazarbayev. He executed a contract with then Chevron Chairman and CEO, Kenneth Derr, and since then we've been working cooperatively and proactively with the government and our partners to develop the Tengiz field. At the time of the contract execution President Nazarbayev said that it was the contract of the lifetime. He made this statement because he understood the importance of Tengiz for the benefit of Kazakhstan.
When we first started in 1993, production was about 1 million tons per annum. Last year we had a record production of 29.79 million tons of oil. Nearly a 30-fold increase. We are a 50% partner at Tengizchevroil joint venture which continues to significantly contribute to the Kazakhstani economy. Since 1993, contribution to the economy was $146 billion. You can see it's a very valuable asset not only for Chevron, but for the Republic of Kazakhstan as well.
– Future Growth Project is ongoing, and it will increase production at Tengiz by third. What is the progress of the project? Recently Kazakhstani media said that Tengizchevroil informed its Partners of FGP costs increase and completion dates possibly delayed. What is the reason, and will it cause any problems?
– Let me start with a little bit of background of the project. The partners took the Final Investment Decision on the project in 2016. The project consists of two parts: the Future Growth Project (FGP) and the Wellhead Pressure Management Project (WPMP). The WPMP is designed to install equipment to allow us to handle the wells that are currently on production. Those wells are declining in pressure and without this equipment we are at risk of not being able to produce. The WPMP portion of the project will extend the production from the existing wells.
The Future Growth portion of the project will add additional wells and additional production capacity. We expect to add about 12 million tons per annum. When project comes online by end-2022, early-2023, production should be around 39 million tons per annum. It's a very significant project in that respect.
The project itself is about 75% complete right now. Engineering is 97% complete. Procurement is about 98% complete. The real focus of the project is on construction activities in the Tengiz field. They are significant. Just to give you an example: we currently have 41,000 Kazakh national citizens working on the project in Tengiz. And that makes up 91% of the workforce.
You mentioned the reported cost increase and schedule. I can confirm that TCO did issue a cost update and Chevron has endorsed it. The current schedule for the FGP-WPMP project is as follows: the WPMP portion is due to come online in late-2022, and FGP is due to come online in mid-2023.
We looked back and analyzed some of the causes for cost increase: the engineering costs were higher than expected, engineering impacted fabrication, construction costs were higher than we anticipated. Also, the scope of the electrical and instrumentation works was larger. The project itself was more complex than we originally thought.
Contribution that the project is making to Kazakhstan is significant in terms of supporting Kazakh companies. Since the project began, over $8.4 billion has been spent with Kazakh companies directly for goods and services.
– You said that key capacities of the project will be commenced at the beginning of 2023. Do you think the shareholders will be able to recover investments and get profit before the contract expiration? Are you discussing the project extension with the government of Kazakhstan?
– The project itself is an investment that we took with the understanding that we will be able to recover our investments. It will have benefits for both Kazakhstan and the partners. And we look forward to the project generating strong production and good financial performance through the end of concession which ends in 2033. It's too early to talk about future investments but we will work with the Republic to discuss opportunities.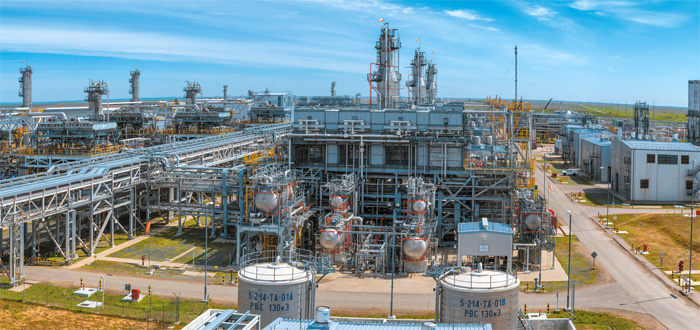 – As we all know, crude oil is the most valuable product from Tengiz. In the meantime, natural gas is getting in higher demand all over the world. Does Chevron have any plans regarding the associated gas from Tengiz? After completion of FGP will it be totally reinjected or will any portion of it be sold? If yes, who may be potential customers? What about KazTransGas? Are there any third-party customers outside of Kazakhstan?
– It's a good question. The most value is created at Tengiz by injecting gas into reservoir. That helps boost incremental oil recovery and creates value for the Republic and the partners. That's why in 2008 we brought in the Second-generation plant and second-generation injection facilities to inject surplus gas back into reservoir. That's proven to be very successful. It's highly complex and technical, but what we are implementing now in FGP-WPMP is something very similar. We are building our third-generation production facilities and third-generation injection facilities. The plan is to inject the excess gas into reservoir to boost oil recovery and create the most value both for the partners and the Republic of Kazakhstan.
– So, we speak about surplus, not the entire gas you produce.
– It's really the entire gas we produce. We have small amount of surplus gas for commercial markets.
– When marketing gas you need to consider the sales price. KazTransGas has the right to buy this gas for internal market at the production costs. Meaning that within the country you will not get good price for that.
– As I said, the value comes through gas injection, not gas sales. And the Republic benefits more from the injection to reservoir.
– What about the gas supplies to the newly constructed integrated gas processing and chemical processing complex in Atyrau? The memorandum was signed between Tengizchevroil and government several years ago. Is the memorandum still relevant?
– Those commitments we made to supply the plant are still in force.
– The second large project Chevron takes part in is Karachaganak. What is the situation there? As we know, the dispute between KPO and the government regarding the profit sharing (where the government has financial claims to the Consortium) still hasn't been resolved. Will the dispute impact any planned investment projects at Karachaganak?
– I cannot comment on the specific commercial matters. But what I would say is that from Chevron's perspective, we support the operator working closely with government to resolve this dispute in a mutually agreeable fashion.
We believe that disagreements are best resolved by talking face-to-face and deciding on what is the best path for the concerned parties. While the case is in arbitration, the mutually agreeable settlement is in the best interest of both parties.
– Chevron is also a shareholder in the Caspian Pipeline Consortium from Tengiz to Novorossiysk. Recently the expansion project has been completed and today the pipeline fully covers transportation demand. But how the increase of production at Tengiz by third will influence the situation? Is it necessary to search for a different route?
– Another good question. I'd take you back to 2017, Chevron and partners finished the CPC expansion project that increased the capacity of the pipeline to about 67 million tons of crude per annum. Since that time, 90% of all volumes handled through CPC pipeline, came from Kazakhstan, including TCO, Karachaganak and Kashagan. And 100% of the Tengiz crude has gone through the CPC pipeline.
As you pointed out, production volumes will be increasing in 2022-2023. To accommodate that CPC took an investment decision in the middle of 2019, to debottleneck the pipeline. It will increase the capacity of the pipeline to 72.5 million tons per annum. And at that point of time, it will be sufficient to handle the increased oil volumes from FGP-WPMP. There is no need in another rout.
– You will construct new pumping stations, new pipes?
– We use the existing pipeline and will make some modifications and upgrade two important pump stations in Astrakhan and Tengiz.
– And you are not going to revive the exotic projects that are there since ninetieth...
– The most cost-effective thing is to take advantage of the existing infrastructure and make investments to make that infrastructure more efficient.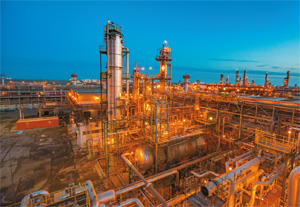 – Chevron is one of the few producers that invest not only into oil and gas. The company has a Polyethylene Pipe and Valve Plant in Atyrau. Do you have any other diversification plans? Any plans on renewable energy?
– At Chevron we believe that we have a role to play supporting Kazakhstan in its desire to diversify the economy. And the pipe plant and valve plant that we've built and operated are two examples of that.
We also have a group that is studying other opportunities. In fact, we've evaluated over 300 concepts. We work very closely with the Ministry of Energy to identify a strategic fit for these concepts. And some of them are in the areas of digital, waste management, environmental protection. We have a couple that are pretty active today. It's a little premature for me to announce them, but when we are ready, I'll let you know.
– I'd like to return to the subject of the alternative energy sources. Why energy companies develop this area? Isn't it like shooting your own horse? Is investing into alternative energy caused by an image enhancement activity or a business-driven decision?
– I can share with you what we think at Chevron: when you look at the forecasted demand for the energy until about 2040, the energy demand is expected to grow by about 25%. And all forms of energy will be required.
Right now, oil and gas make about 50% of the energy supply to meet the current demand, and in 2040, even under the most stringent climate agreements, oil and gas will still be close to 50% of the required energy demand. It's true that renewables are probably the fastest growing segments of energy. But from the statistics I quoted, oil and gas will be relevant for many decades to come.
Our view at Chevron is that all forms of energy are in place to satisfy the world's energy demand. We take a view that renewable energy can play important part in supporting our operations. We've built a large solar plant in California, United States, that helps us generate steam which we use in our producing operations. We've also invested in windfarms in Texas, United States, to provide energy for our operations in West Texas.
– Social investment projects and investments into human capital development are another area for Chevron's investments. Why is this important for the corporation?
– Chevron believes that it's important to contribute back to the communities where we work, where our employees are from. Around the world we have a three-prong strategy. We focus on health, education, economic development. Those strategies guide our social investment programs in areas of our operations.
We also work closely with our affiliates who make considerable investments into the communities where they operate. For example, in TCO, since 1993, they've invested over $1.9 billion to fund social projects and programs in the Atyrau Oblast. If I look at KPO, Karachaganak, since 1998, they've invested about $400 million in Western Kazakhstan Oblast. These programs deal with infrastructure development as well as human capacity and capability.
Another important aspect is development of human capital. At TCO, we are very proud of progress we made in boosting up the skills and capabilities of our Kazakh national workforce. When TCO first started, 50% of the workers were Kazakhs. Today in our Base Business it's 89%. We also add special programs to re-design to build managerial leadership capabilities, and today at TCO Base Business, 83% of our management team are Kazakh nationals. And we have more in the development phase.
I can point to a similar story about Karachaganak. When we look at their skilled workers, technical and clerical staff, there are about 96% of Kazakhs, and their leadership and managerial team represents about 79% Kazakh nationals. In both ventures you can see, we made great progress.
There is always more to do. And I know that both companies place tremendous amount of emphasis on employee development and skills progression to continued advancement of Kazakh nationals to higher levels of responsibility in the organization.
– Chevron had a practice of international assignments for the Kazakhstani employees including assignments in the headquarters in San-Ramon and other branches around the world. Are you still doing it?
– Absolutely, we are still doing it. With the downturn of oil prices in 2014, it put a lot of pressure on this type of programs. At Chevron we are working closely with TCO and took a long-term view on the importance of developing our talents through these expatriate assignments. We have number of TCO employees working on locations around the world and we have number of Chevron employees who are typically based here in Almaty, they are also working on international assignments.
We believe this is the fantastic way to expose them to new and different ways of doing business around the globe and it helps them to be more competitive for higher level of responsibility when they return to Kazakhstan.
– I know that after working at Tengiz, employees are welcomed in other big companies including those outside Kazakhstan…
– It's a working university.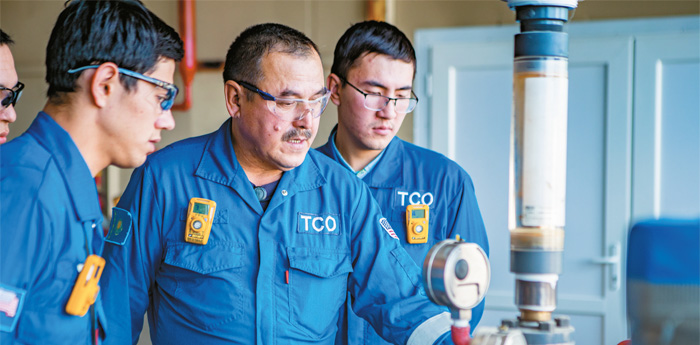 – And finally, may I ask a personal question. The work of a petroleum engineer requires, if I may say so, «the nomadic way of life». You have been working in Kuwait, Angola, Indonesia and now – in Kazakhstan. Are there similarities between these oil countries? And what are the differences?
I can see several similarities: first, all countries where I worked were blessed with tremendous natural resources. And the governments had the foresight to work with companies like Chevron to develop those national resources to really help boost up the economies and improve the wellbeing and lives of citizens in those countries.
The second similarity I see is in the people. Everywhere I worked, I encountered people that are eager to learn, they are inquisitive, and they work very hard to succeed and provide for their families. And it's very motivating to me to come to work and be around such an energized group of people.
And maybe the third thing that strikes me as a similarity is the deep relationships that Chevron has with its key stakeholders in each of those locations. Those relationships in certain cases go back several generations, but the quality of those relationships, the way we approach them, honesty and integrity make it possible for us to be successful for a long period of time.
I think I can speak for all locations I've been, the relationships helped Chevron not only be successful, but they contributed for the countries to be successful as well. We highly valued relationships we've developed.
The only thing is different for me on a cold February day in Almaty is the temperature.
John Baltz
Was born on December 9, 1957 in Michigan, USA. Holds a Bachelor of Science degree in chemical engineering from the University of Colorado. He joined Texaco, which later merged with Chevron, as a field engineer in 1980.
He has held a number of positions of increasing scope and responsibility, including Senior Vice President of Operations for Saudi Arabian Chevron in Kuwait, Manager of Production Operations in Cabinda province in Angola, General Manager of Marine Services for Chevron Shipping and Vice President of Operations for Chevron in Duri, Indonesia and worked in multiple locations within the United States.
John Baltz served as the Managing Director of Chevron's Southern Africa Strategic Business Unit, a position he assumed in January 2014. Since October 1, 2018, he is the Managing Director of Chevron's Eurasia Business Unit based in Almaty, Kazakhstan.