Competition for Investments is the New Reality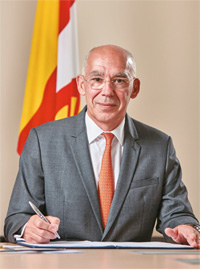 Answers to the questions of the Petroleum Olivier Lazare – Shell Kazakhstan Country Chair
- This year has been dramatic for the global oil and gas industry. COVID-19 related quarantine restrictions and resulted drop in demand for oil and oil products, as well as decreased hydrocarbons price at global markets has put the industry into difficult situation and forced operators to cut their investment programs, capital and operating expenditures. How has Shell addressed these challenges?
- In general, 2020 has been successful for Shell Kazakhstan. Both our assets (KPO and NCOC) have demonstrated strong safety and operational performance regardless of challenges related to global COVID-19 pandemic. It was achieved due to timely taken measures at the joint ventures and strict observance of all prevention and sanitary requirements by the employees during the quarantine. As of today, all planned works on ongoing projects are being implemented and we feel optimistic for successful completion of the year.
- What measures has Shell taken to protect its personnel at the projects and staff from the pandemic? COVID-19 infection rate at the North-Caspian Project particularly has turned out to be one of the lowest in the industry while the overall situation in Atyrau oblast was quite difficult. How could you achieve it?
- Health and safety of our employees is the main priority for Shell. I would like to mention that NCOC has taken a unique proactive approach, which has placed it among the first companies in the country to implement many specific COVID-19 spread prevention measures.
Immediately after the announcement of the State of Emergency on March 15, NCOC transitioned most of its employees to working from home with an uninterrupted payment for all staff. This was a temporary measure as part of a "social distancing" effort to slow down the spread of COVID-19.
The Company developed a "90 days operational area" concept for its production sites. This is a plan for the Front Line staff working at operational facilities with the preventive isolation period for site critical personnel before they travel to protected site areas. NCOC is the first to introduce the COVID-19 rapid tests in Atyrau. To date, all site critical personnel is tested before they are allowed to go to site after successfully conducted 14 days quarantine for offshore staff and 10 days for onshore staff.
In addition, NCOC developed a specific response plan to define key actions, roles and responsibilities in case we face a suspected or confirmed COVID-19 case. As part of the measures in support of its employees, the Company, for instance, distributed a number of disposable masks amongst the personnel based in Atyrau, Aktau and Nur-Sultan during the first months of coronavirus outbreak when pharmacies faced the lack of masks. Company ordered a sufficient quantity of masks for the staff and their family members proving once again that health and wellbeing of its staff and their families is equally important as committing to the local community.
- Have you provided any type of assistance to local Governments and regional communities to fight the pandemic?
- For Shell Kazakhstan, supporting local communities is an important aspect of our business. In April 2020, a group of foreign investors working in Kazakhstan purchased and donated the state of the art intensive care medical equipment and individual protective sets to the Multi-Disciplinary Medical Centre (MDMC) of Nur- Sultan city, to help treatment of the COVID-19 infected patients. Shell Kazakhstan coordinated the project by organizing collection of funds from the investors to purchase the equipment and get alignment with MDMC and Nur-Sultan city's healthcare department. The overall cost of the equipment is over 200 mln KZT.
Considering that COVID-19 pandemic creates serious problems for Kazakhstan's and global healthcare system, both joint ventures where we have shares also provided considerable help to local governments and communities.
For instance, KPO has handed over to Aksai, Uralsk and region hospitals and polyclinics the medical equipment to support efforts on COVID-19 prevention and treatment. Support of WKO Hospitals included State-of-the art intensive care equipment including artificial lung ventilation apparatuses and personal protective equipment, thermal cameras, PCR analysis equipment and test systems, quick test sets for COVID-19, bedside monitors, electrocardiography units, syringe pumps, lab testers and other infection control equipment as well as two ambulances (over 3 bln KZT in total). KPO also took part in the nation-wide campaign "Biz Birgemiz" (We Are Together) - KPO donated funds to support the most vulnerable members of the community.
Also, NCOC has allocated significant funds to help healthcare facilities in Atyrau and Mangystau regions. NCOC has been working closely with the regional authorities, government and other partners to support capacity of local hospitals and implement sustainable preventive measures to eliminate the spread of the coronavirus.
Starting from March, NCOC has been providing essential medical equipment for the healthcare system in Atyrau and Mangystau regions. In particular, the Company delivered critical care equipment to the Atyrau Regional Infectious Disease Hospital, where COVID-19 positive patients are treated. This includes invasive medical ventilators for children and adults, defibrillators with ECG-function and external pacing, multifunctional electric ICU beds, a portable ultrasound machine, different analyzers, monitors and many more.
- Now, let's talk about Shell's current operational activity in Kazakhstan. What's going on in Kashagan? Will the concept for further development of the field be approved and gas injection compressors upgrade project's FID taken this year?
- NCOC, being an operator, is currently doing preliminary engineering to receive an approval of the Government and our investors to ramp up the productivity of Kashagan.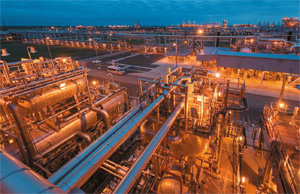 In parallel, work is now underway to plan the second stage of development. NCOC plans to announce later the concept of this development of the Kashagan field. This will significantly enhance production versus the current level.
NCOC has already taken the first important step during this turnaround by upgrading its wells located on the Offshore Complex and converting some of them from producers to injectors. Further possible steps include upgrade of the existing raw gas injection compressor at Kashagan, ramp up of offshore and onshore facilities, additional drilling and construction of additional pipelines between the facilities. These improvements if agreed with the government of Kazakhstan and our investors will enhance production to 450 thousand barrels per day or more
- Could you please provide Kashagan gas processing plant project details which is planned to be built next to Bolashak plant? Are North Caspian Consortium shareholders somehow participating in this project? What will be the conditions for delivering gas to the plant? After increasing injected gas volumes, will there be enough gas left?
- As previously reported in media, new gas processing plant with annual capacity of nearly 1 billion m3 will be a facility that will be built and operated by a third party. We cannot provide more details on this issue at this stage as it is still under discussion between Consortium partners, KazTransGas JSC and the Government.
Shell is not planning to invest into construction of that plant. We cannot comment on other shareholders' position.
- One year ago, on behalf of Shell, you announced that you are leaving the offshore Khazar project. Does that mean that due to changed oil prices development of Caspian fields might be unprofitable?
- The reasons for that decision were purely challenged economics of the project. Shell applies strict investment criteria to its capital projects. The project was not competitive enough versus other opportunities in Shell's global portfolio.
Shell remains one of the largest investors in Kazakhstan and looks forward to continuing its cooperation with the Republic of Kazakhstan on future projects development in country
In general, regarding cost of projects in Kazakhstan, the combination of two global impacts from low oil price environment and energy transition means that only low-cost projects will be developed.
Unfortunately, Kazakhstani projects are typically more expensive. Part of it is due to technical issues such as sour oil and gas and to geographical issues like climate and lack of maritime access. But still, if we compare to a country like Canada which facies similar issues, equipment and materials costs in Kazakhstan are typically higher by about 37% if compared to Canada, and engineering is 30% more expensive than in Canada. There are other factors that add to the cost of doing projects in Kazakhstan that need urgent joint attention from both the Government, supply chain participants as well as operators.
- More recently, the RoK Government has been upgrading its investment and taxation legislation bringing it in alignment with current realities. If 8-10 years ago, investors were looking for attractive projects that are able to bring good value around the world, nowadays, the situation has changed. Currently, the countries compete with each other for investments. During your professional career you have worked in different countries and you are able to provide your competent opinion. How do you evaluate the investment climate in Kazakhstan today and what steps need to be taken by the Government to be successful compared to competitors?
- Over the past nearly thirty years since the independence of the Nation, much has been achieved by the Republic of Kazakhstan with support from private investors to develop oil and gas production. Kazakhstan is now a significant and a respected player in oil and gas on the world stage. This industry has had continuous investment inflow at the level of around $10bn per annum for the last 15-16 years. But unless decisive actions are taken jointly by the Government of the Republic of Kazakhstan and investors alike, this level could drop substantially, potentially to around $3bn per annum starting 2025.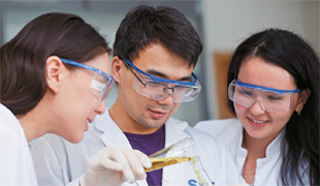 As you have mentioned, we are now in a cycle of low oil prices which we believe is here to stay. It was triggered by the emergence of shales in the United States, and now the global pandemic has further depressed economic activity and oil prices, forcing IOC's and NOC's alike to cut their capital investment plans by over $500bn in total over the next 5 years. Major projects FID's are down 75% this year compared to last 3 years, and delays in the following years are expected if the current situation continues – and again we believe the low oil price scenario to continue for several years. So, competition for capital globally is fierce and is likely to stay fierce.
Kazakhstan is really out there competing for the investment dollars that are more than ever sought after today by a lot of countries!
In the context that I have described earlier, it is clear that stakeholders in the O&G sector in Kazakhstan, IOC's and government alike, need to do things better than now in order to attract investment to the country. We need to move out of the adversarial climate of the last decades and refocus on creating value. We need to truly work together to reduce the bureaucracy which delays projects and to reduce the risk and obstacles to investment.
There are 4 areas where the RoK and the industry need to work collaboratively to allow Kazakhstan to compete for the globally scarce capital in the sector:
a.
Bringing the costs of projects in Kazakhstan down
c.
Enabling natural gas development
d.
A more appeased and responsive investment climate
We strongly believe that in these challenging times for Kazakhstan's oil and gas sector driven by low oil prices and scarcity of much needed capital, the industry and the RoK Government will need to work even more closely together to stimulate investments in the country. At Shell we stand ready to work with the authorities in Kazakhstan in these challenging times. Being more agile, transparent, value creation driven, and true to the Rule of law will help this country, blessed with abundant resources, to attract the much-needed investments.
- Are you ready to consider any new exploration projects in Kazakhstan? As we know, "KazMunaiGaz" is currently proactively attracts partners for exploration and development projects.
- In our view, Kazakhstan could produce substantially more in the future than it is doing today; it has resources that should allow the country to reach liquids production levels well beyond the 2 mln bbls/d it has the capacity of producing today.
Shell is ready to consider opportunities for participating in exploration projects in Kazakhstan as we believe that the country has not fully reached its oil and gas production potential yet
- In its recent "2020 Energy Outlook" BP has forecasted continuous decline in hydrocarbons demand in the global energy. Do you agree that oil and gas will not play the important role they have been playing during the last 20 years?
- Yes, that outlook on the climate change and energy transition scenarios indicates that oil demand may peak in the 2020's and decline sharply after that in some cases.
We agree that the demand for liquid hydrocarbons might drop in the upcoming decades, hence, it does not appear wise to 'play it long' and assume that all resources will be developed and can be left for the future. We need to act now, again keeping in mind the long lead times from exploration to production.
- Shell is known for its high corporate responsibility in the regions where it operates being a reliable partner for local communities. Which social projects has Shell been implementing in the Republic of Kazakhstan? Could you please describe them in more details for our readers?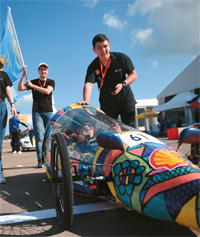 - Shell continues implementation of its social investment program regardless of challenging COVID-related situation in Kazakhstan and the world. In addition to direct investments into key industry projects, Shell takes active part and contributes to programs and initiatives aimed at addressing important social issues.
Shell Kazakhstan is committed to become a trusted partner to the RoK and a good neighbour to the communities where the company operates. Shell's approach to social responsibility is to contribute to socio- economic progress of the country by implementing a portfolio of social investment initiatives to support Government objectives in addressing community/country needs
Shell Kazakhstan's Voluntary Social investment strategy for 2018-2020 was developed with the focus on education, SME and human capital development. Promotion of the road safety advanced practices is also a key priority area for SI portfolio.
I am sure that our social investment projects such as "Shell LiveWIRE" (supporting entrepreneurship), "Student Energy Challenge" (supporting innovation projects) "NXplorers" (developing new thinking technologies) and "Shell EcoMarathon" (participation in energy efficient cars' contest) have already proven to be effective tools for developing human capital in Kazakhstan. Shell Kazakhstan also actively participates in a pilot industry initiative for oil & gas curriculum development for national technical universities.
Shell Kazakhstan also implements Road Safety programme in cooperation with ENI which includes holding series of trainings and events for drivers and pedestrians in order to prevent road accidents in Western Kazakhstan oblast and Nur-Sultan city.
Also, within the framework of "Solar for schools" project we have successfully commissioned solar power stations in Nur-Sultan, Uralsk and Aktau. This project is designed to provide for up to 30% of the school's annual power consumption. Any surplus power generated by the system will be exported to the municipal grid thus enabling good energy saving.