The role of gas in the energy balance. Current state and prospects of Kazakhstan's gas industry
Murat Zhurebekov, First Vice-Minister of Energy of the Republic of Kazakhstan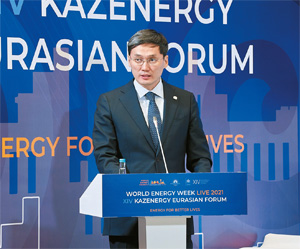 In September 2021, gas prices in Europe soared to a historic high, showing everyone how much this type of fuel is in demand by consumers in Europe today. The high cost of gas is also supported by the growing demand for it in Asia. This suggests that gas can and should compete with other environmentally friendly energy sources in the world's energy balance structure.
Kazakhstan ranks 22nd in the world in terms of gas reserves and 3rd among the CIS countries after Russia and Turkmenistan. The Government Reserves Commission has approved recoverable gas reserves at the level of 3.8 tln cubic meters.
By its structure, the gas produced in the Republic of Kazakhstan is mainly associated with petroleum gas, and the volume of its production directly depends on the dynamics of oil production. About 90% of Kazakhstan's gas production is provided by the Karachaganak, Kashagan, Tengiz and Zhanazhol projects.
Over the years of independence, gas production in the country has increased many times. By the end of 2020, oil and gas companies of the country produced 55.1 bln cubic meters of gas, which is more than seven times higher than the level of gas production in 1991 (7.9 bln cubic meters). At the same time, more than a third of the extracted associated petroleum gas was re-injected into the reservoir to maintain reservoir pressure. Another 18% was used for electricity generation and other technological needs of subsoil users. Gas processing amounted to 27.7 bln cubic meters, of which 62% was directed to the domestic market, and 38% was exported.
We predict that soon gas consumption in the country will grow and reach 25.7 bln cubic meters by 2025 and 30.2 bln cubic meters by 2030. Regional gasification projects will provide consumption growth, and after 2022 gas chemical plants under construction in the Atyrau region will use gas as raw materials. It should be noted that today a polypropylene production plant with a capacity of 500 thous. tons per year is being built in Kazakhstan. Projects for the production of polyethylene terephthalate, methanol, olefins, polyethylene, butadiene, base oils with a total cost of about 12 bln USD are at different stages of development. It is planned to implement gas chemical projects that Kazakhstan will carry out jointly with the Russian SIBUR and Tatneft.