Shell in Kazakhstan: Powering Progress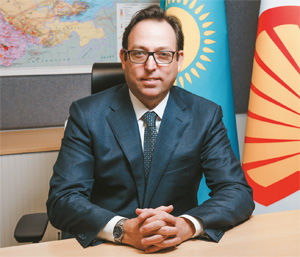 Mr. German Burmeister, Senior Vice President and Country Chair of Shell Kazakhstan answers Petroleum's questions in an exclusive interview
– Shell is a global group of energy and petrochemical companies operating in more than 70 world economies. But where does Kazakhstan rank among them?
– Shell have long roots in the Caspian region where our presence goes over 125 years and here in Kazakhstan dates back to the early 1990s soon after Kazakhstan gained its Independence. Our company was one of the first foreign investors to acknowledge the great potential of Kazakhstan and have followed the path of partnership with the Republic ever since.
In Kazakhstan we have a strong presence by being a shareholder in the North Caspian Sea Production Sharing Agreement, Karachaganak Final Production Sharing Agreement and Caspian Pipeline Consortium with equity interests of 16.81%, 29.25% and 7.4% respectively. Over the years we have invested billions of dollars in both Karachaganak and Kashagan projects, development of local talents and communities. These projects are of national importance for the Republic of Kazakhstan and have a special place in the Shell's investment portfolio.
Kazakhstan is in the top nine core countries in Shell's Upstream business. While the Upstream business delivers the energy of today, we are also funding the energy of tomorrow and will play a fundamental role in supporting our Powering Progress strategy which is in line with Kazakhstan's ambition to reach carbon neutrality by 2060.
– Shell began its operations in Kazakhstan back in 1993. In fact, the Company is nearly as old as the RoK's Independence. What is the amount of investment raised by Shell to Kazakhstan over these years?
– Shell has been present in country for 28 years now and will mark its 30th anniversary in Kazakhstan in 2023. As a company we have achieved a great deal over the past years, thanks to our efficient and true cooperation with the joint ventures' partners at Karachaganak Petroleum Operating and North Caspian Operating Company and the Government of the Republic of Kazakhstan. With an investment to date of over $18 billion, we are proud to be one of the largest foreign investors in Kazakhstan.
– At the beginning of this year Shell announced its Powering Progress strategy. Can you please elaborate on this strategy and how it is aligned with your operations in Kazakhstan?
– Indeed, this year we at Shell announced our Powering Progress strategy with a strong focus on decarbonization very much in line with Kazakhstan's ambitions to reach carbon neutrality by 2060 as announced by President Tokayev. Undoubtedly, energy transition is inevitable and is accelerating every day.
Our Powering Progress strategy is aimed at accelerating the transition of our business to net-zero emissions, in step with society's progress in achieving the Paris Agreement goals. It is designed to create value for our shareholders, customers and wider society. It has four main goals – generating shareholder value, achieving net-zero emissions, powering lives and respecting nature. In Q3 we set a new 2030 target to halve the absolute emissions from our operations, compared to 2016 levels on a net basis.
In country we do not stand still as we support Kazakhstan's goal to reach carbon neutrality by 2060. We are already contributing to this mutually important milestone. For instance, in 2019 we initiated Energy Assessments at NCOC and KPO to identify possible abatement opportunities to improve greenhouse gas (GHG) emissions performance. This allowed NCOC in 2020 to adopt and to start implementing the GHG Emissions and Energy Efficiency Management Strategy which sets out specific objectives and plans for achieving 15-25% GHG emissions reduction by 2030. We expect that a similar strategy will be developed in KPO by the end of this year. These strategies envision key activities on energy efficiency improvement, waste heat recovery, renewable energy generation, gas flaring minimization as well as carbon capture, utilization and storage.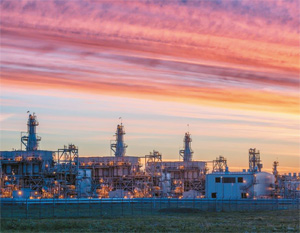 As Shell Kazakhstan we make contribution by sharing our knowledge and experience in the energy transition with our Kazakhstani colleagues. As a recent example, on 3 September 2021 we and National Company "KazMunayGas" signed a Memorandum of Cooperation on Carbon Capture Utilization and Storage (CCUS). The Memorandum provides for joint exploration of potential opportunities for implementation of the CCUS Pilot Project seeking to identify and develop the main criteria for carbon capture and utilization. As part of the Memorandum signed, our technical experts will share their international experience in implementing similar CCUS projects worldwide.
For the past three years, we have also been implementing our Solar for Schools initiative in Kazakhstan. The primary goal is to encourage young people's interest in sciences, technology, engineering, and mathematics (STEM) and raise awareness of the benefits and opportunities of renewable energy. We have successfully commissioned solar stations in schools in Nur-Sultan, Uralsk, Aktau and Atyrau. Construction of another solar energy system in Turkestan NIS school starts next year. And this is just a beginning of our journey.
– Shell's Portal reads: "Shell contributes to developing local communities where the company operates." How impactful is this contribution in Kazakhstan?
– We continue implementation of our social investment projects regardless of challenging COVID-related situation in Kazakhstan and the world. In addition to direct investments into NCOC and KPO, Shell takes active part and contributes to the programs and initiatives aimed at addressing important social issues. As part of contractual obligations, some capital expenditures are allocated for social infrastructure projects in West Kazakhstan, Atyrau and Mangistau oblasts. This covers education, healthcare, sports and culture and other infrastructure in the regions of our operations. The total amount of investments into SIPs to date has reached 1,281 million US dollars, i.e. KPO – 449 million USD, NCOC – 825 million USD and CMOC - 7 million USD.
Shell' strategic "Powering lives" goal is aimed at bringing tangible value to the community and people around our operations. That's is why our voluntary social investment program is focused on education, small and medium enterprise (SME) and human capital development. Promotion of the road safety advanced practices is also a key priority area for social investment portfolio.
I am sure that our social investment projects such as "Shell LiveWIRE" (supporting entrepreneurship), "Student Energy Challenge" (supporting innovation projects) "NXplorers" (developing new thinking technologies) and "Shell EcoMarathon" (participation in energy efficient cars' contest) have already proven to be effective tools for developing human capital in Kazakhstan. Shell Kazakhstan also actively participates in a pilot industry initiative for oil & gas curriculum development for national technical universities.
Shell Kazakhstan also implements Road Safety programme in cooperation with ENI which includes holding series of trainings and events for drivers and pedestrians in order to prevent road accidents in Western Kazakhstan oblast and Nur-Sultan city.
– In addition to having taken an active part in the country's oil and gas sector, Shell is a reliable partner of Kazakhstan in implementation of the country's innovative development agenda. Could you share with the results of this work?
– Aside from investments into our core operations, our company has brought other elements needed for complex oil and gas projects: technology, expertise and rigorous safety. As a global leader in R&D and technology, Shell in Kazakhstan is a true believer in the potential in the areas of technology transfer and local talent development. There are a number of projects at our JVs, completed and in the pipeline, through which we reinforce our commitment to technological progress. As an example, since the signing of the Karachaganak FPSA, we with our partners have invested approximately $28 billion into developing the field, applying industry leading technology aimed at maximizing sustainable economic value.
– Dear Mr. Burmeister, you have assumed the duties of the Shell Country Chair since this August. The past few months might have shaped your personal idea of Kazakhstan and its oil and gas sector. How different is it from the places and regions where you had to work before?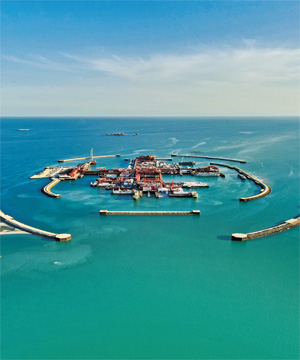 – I am new to Kazakhstan as I assumed my role in August this year. It is my third month here and I am energized to start the new chapter of my career in Kazakhstan. In early 90s when I was a young Petroleum Engineer, I heard about Kazakhstan and its vast oil and gas resources for the first time. Three decades later now I am here having the privilege to lead the organization. I have always heard a lot of great things about the country from many of my colleagues, and I am delighted for this opportunity to come here to work and live with my family.
I spent some time travelling and can say that it is a wonderful country with amazing people. I am impressed not only by the immensity of the country but also by its economic power and geopolitical influence. Kazakhstan has made an eminent journey of a remarkable development over thirty years. Nur-Sultan is a beautiful modern city, and I am amazed by its transformation.
As Argentinian, I can say, that Kazakhstan and Argentina have many things in common. For instance, we, Argentinians also like spending time together with the family and close people. Of course, the climate and weather are much different here and I was told about freezing winters in Nur-Sultan.
– What would you wish your peers, partners, and all Kazakhstanis on the eve of the 30th anniversary of Kazakhstan's Independence?
– On behalf of Shell and me personally, let me congratulate the Republic of Kazakhstan and its people on the 30th anniversary of Independence!
Together with our partners and the Republic, we have built robust joint ventures based on the principles of safety, reliability and operational excellence that have made Kazakhstan a recognized key player in the global oil and gas market. Shell's success in Kazakhstan is the result of our long and trusting relationship with the country, peers, partners and we are looking forward to continuing this legacy in the future. I wish further success, the one that we can deliver together with our partners for the benefit of the oil and gas industry and importantly for people of Kazakhstan.