Chevron and Kazakhstan: Thirty Years of Partnership
New records at Tengiz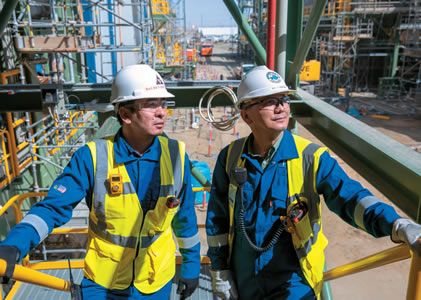 Thirty years ago, Chevron became the first major international investor in the newly independent Kazakhstan and signed an agreement for establishment of Tengizchevroil (TCO) joint venture to develop a unique field - Tengiz. Since then, for three decades, TCO continues to make large-scale contribution to Kazakhstan economy. Since 1993, TCO's direct financial payments to the Republic of Kazakhstan have amounted to more than 176 billion US dollars, including more than 43.6 billion for local goods and services. As of 2022, TCO made direct financial payments of 14.5 billion US dollars to Kazakhstan.
In December of last year, on the eve of Independence Day of the Republic of Kazakhstan, Tengizchevroil joint venture was recognized by the State Revenue Committee of the Ministry of Finance as country's best taxpayer in the "Subsoil User" category.
The organizers of the event noted TCO's achievements as a conscientious taxpayer, and as a company that does business fairly, transparently and competently with a great economic growth impact to the country. For decades TCO has been an exemplary and the largest taxpayer in Kazakhstan. On average, tax proceeds from Tengiz make more than 20% of state budget revenue.
In 2022, TCO produced 29.2 million tons of crude oil, 10% more than a year before. Upon the completion of Future Growth Project and Wellhead Pressure Management Project (FGP-WPMP) TCO's oild production capacity will increase to 39 million tons per year. FGP will increase production capacities, while WPMP will ensure full utilization of the processing capacities of the plants operating at Tengiz by reducing wellhead pressure and increasing the pressure on six existing integrated production lines.
In 2022, TCO achieved the highest share of local content over the past six years, reaching 70%. As of the end of 2022, Kazakhstani citizens hold 94.8% of positions in TCO Base Business compared to 50% in 1993.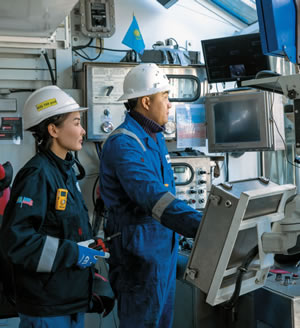 TCO is actively involved in diversification of Kazakhstan economy and provides raw materials for new domestic petrochemical capacities and satisfies the economy's growing demand for commercial gas. In 2022, 87% of TCO gas was supplied to domestic market of Kazakhstan. Starting this year, all volumes of commercial gas produced by the company and previously exported, will be redirected to the domestic market. KPI, the first integrated petrochemical complex in Atyrau, which has been commissioned in November of last year, is fully supplied by propane from TCO.
Working all over the world, Chevron focuses on projects in healthcare, education, and economic development. These are the areas where Chevron invests in the communities where we operate. Starting from 1993, TCO invested more than $2.7 billion to fund social projects and programs for the community and employees in Atyrau region.
As we celebrate 30 years of partnership, TCO will continue to support community in West Kazakhstan under the annual Voluntary Egilik Social Infrastructure Program with a budget of $25 million and the annual Social Investment Program with a budget of $2.5 million.
A milestone in the history of Karachaganak
2022 marked an anniversary of another company where Chevron is a partner. In November of 2022, KPO celebrated 25 years since singing of Karachaganak Final Production Sharing Agreement – a document regulating the relationship of an international consortium Karachaganak Petroleum Operating B.V. with the Republic of Kazakhstan.
Over the past quarter century, Karachaganak has been a key driver for Kazakhstan oil and gas industry and social and economic development of West Kazakhstan region. Over this time, Karachaganak partners (including Eni, Shell, LUKOIL, and the national company KazMunayGas) invested about 30 billion US dollars in development of the field.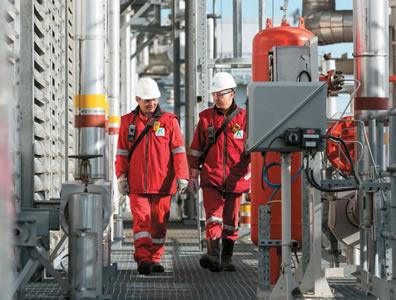 In 2022, KPO produced about 129 million barrels of oil equivalent in the form of stable and unstable liquid hydrocarbons, sour gas for export and sweet gas for use as fuel. Today the share of local employees amongst technical personnel and supervisors is 98% and 86% in managerial positions. KPO actively engages with local contractors in the procurement of goods, works and services. According to last year's results, the share of local content in KPO purchases has exceeded 56.4%, or more than 511.6 million US dollars in monetary terms.
2022 has become a new milestone in the history of Karachaganak. Consortium partners and PSA LLP that represents the Republic of Kazakhstan, with the support of the Ministry of Energy of the Republic of Kazakhstan, signed the sanction agreement for Karachaganak-1B Expansion Project (KEP-1B). The goal of the project is to extend the production plateau of liquid hydrocarbons, bringing additional benefits to the Republic of Kazakhstan and the project partners.
Throughout its activities, KPO Consortium provides annual support to the region in upgrading social infrastructure. The projects are defined and selected jointly with the authorities of West Kazakhstan region following the priorities of the region's social development. The focus is on education, healthcare and sports facilities, road construction, and gas supply facilities in the city and nearby villages.
KPO manages the entire process up to construction completion and transfer of projects to the balance sheet of local authorities. A distinctive feature is that local contracting companies implement all KPO social projects. To date, KPO has investments 754 million US dollars into regional infrastructure development.