Refining: Expectations vs. Reality
Askar Ismailov, an expert in petrochemicals and former head of the chemical assets development sector at the Samruk-Kazyna Fund.
In Russia, it's often said that the two main challenges are fools and roads. In Kazakhstan's oil industry, however, the two most debated topics are oil refining and petrochemicals. Fuel shortages have now become a pressing concern, and the petrochemical industry has been in development since as far back as 2005. Essentially, both sectors demand equal attention, as evidenced by a survey I conducted on LinkedIn. The results display a striking balance: a 50/50 split. It will be intriguing to observe the evolution of these industries. Even before the year's end, we can draw some preliminary conclusions.
Which sector in Kazakhstan do you believe should be prioritized for development?
Oil Refining (4th Refinery)
50%
Petrochemicals
50%
Let's start with the good news. At all the industry conferences on petrochemicals held this year, there are optimistic expectations about expanding the range of products set to emerge in the country in the coming years. This includes urea, LNG plants, and again, polyethylene and PETF. There were hints about methanol and numerous other production lines. However, competition and external factors always influence any project, regardless of where it is implemented. With that in mind, let's discuss the markets that are of interest to Kazakhstan considering all these proposed projects.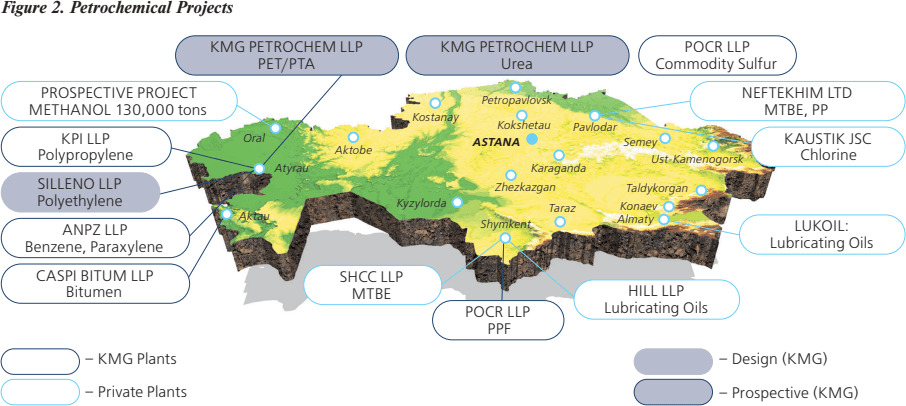 Figure 2. Petrochemical Projects
Urea
At the beginning of the year, news broke that KazAzot Prime had inked a contract for the design and construction of a new ammonia-urea complex with the Spanish firm Técnicas Reunidas S.A. Under the terms of the contract, valued at 16.75 mln euros, Técnicas Reunidas will execute the basic project within 12 months. After the completion of the first phase, foreign experts will continue their work under an EPC (Engineering, Procurement, and Construction) contract. According to this agreement, the Spanish company will handle equipment delivery, oversee construction and installation works, provide staff training, and supervise commissioning activities.
The ammonia-urea complex, with a total investment of about $1 bln, will be situated in the special economic zone of Morport Aktau in the Mangistau Region. The plant's location is due to the zone's prioritization of chemical industry products. The anticipated construction completion date is the fourth quarter of 2026, and the new complex will have a capacity of almost 1 mln tons per year.
Against this backdrop, a statement from the national oil and gas operator, KazMunayGas, drew significant attention. They announced plans to build a similar plant in the Aktobe Region, based on the Urikhtau deposit. This announcement was especially intriguing since an earlier attempt to produce urea by the Samruk-Kazyna Fund (represented then by the Unified Chemical Company) had not been successful. Notably, our neighbors are set to be key competitors in the market. Uzbekistan, which successfully exports up to 1 million tons of urea to markets in Bulgaria, Romania, and the Baltic states, and Russia, where total urea production exceeds 9 million tons annually.
While I harbor few doubts regarding KazAzot's project implementation (private businesses tend to be more efficient), I'm cautiously optimistic about KazMunayGas's urea project. We certainly don't want a repeat of the polyethylene saga that's been dragging on for nearly two decades.
Overall, the produced urea is likely destined for export since it doesn't have a broad application in Kazakhstan. Nitrogen fertilizers currently dominate the agricultural sector. This situation underscores the need for marketers to engage further with local farms and the Ministry of Agriculture.