Small-Scale Refineries: Could They Resolve Gasoline Shortages In Kazakhstan?
Nariman Ahmetzhanov, Director of SEVERKHIM LLP
Yevhen Pushchyk , Deputy Director of Severkhim LLP
Alisher Saytkulov, Senior Analyst of Severkhim LLP
Vagif Mirzoyev, Director of NPF Tural-110 (Azerbaijan)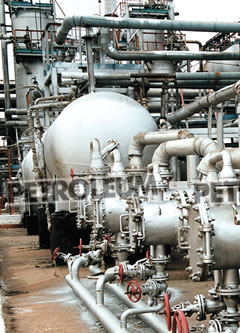 History of rapid development of the small-scale oil refining in the CIS falls in the middle of 90-s of the last century and the beginning of 2000's. At the same time, in the mid 90-s mini-refineries started closing in Europe, though earlier the small refineries existed in Germany, Austria, Poland and other countries.
When we asked a direct question: "Will the small refineries survive in the CIS?" - the authors answered with confidence: Yes, provided that the plants will introduce the secondary processes, allowing to increase the processing depth up to 80%. In addition, the cost is an important element in the process and it must be adequate to the cost of a mini-refinery.
The sector of mini-refineries has its economic niche, it resolves the local tasks of regions, so it cannot be viewed through the prism of large-scale oil refining. In the CIS countries, there are about 300 mini-oil-refineries: in Russia, Ukraine, Kazakhstan, Uzbekistan, Kyrgyzstan and Tajikistan. Mini-refineries in all the CIS countries in 2013 processed about 10 million tons of oil (on average, 30 000 tonnes/year). The market of mini-refineries means small volumes and therefore, it is overlooked by the media and experts, which in turn creates a shortage of information and objective analysis. As shown in the case of Poland, small oil refineries have a niche in the process of oil refining. In the South of Poland there are 5 small refineries and back in 2002-2004, the Groups Orlen and Lotos bought these refineries and included them in the production process for the fuel production. Today, these small refineries specialize in: regeneration of used oils (Jedlicze refinery), production of biodiesel (Trzebinia refinery, Czechowice). This is an example of a government's approach to refining, which, unfortunately, is not the case in the CIS countries.
After the adoption of technical regulations on fuels in the Customs Union, many experts began talking about the end of the era of mini-refineries. The authors offer a completely realistic scenario of development: transforming the small processing sector, i.e. introduction of secondary processes that will enhance the depth of oil refining and fuel quality. It is this difficult path is the only chance for a mini-refinery to keep its economic niche in the new competitive conditions on the market. Introduction of the majority of classical secondary refining processes in small refineries is impractical due to the high cost, so exceptions are the secondary processes, developed and implemented by a group of scientists from Azerbaijan and Ukraine.
There is a "pyramid" of mini-refinery feed capacities, divided into groups, and the transition from one group to another allows us to select various secondary processes of oil refining technology, improving economic performance and quality of fuel. The main differences between these groups are not only the capacities, but also the profitability of production.
The profitability of the plants of the first group (production of less than 100 thousand tons per year) does not exceed 8-12%. Profitability of production of the third group of mini-refineries is 50%, refining depth at such plants increases from 50% to 75%. Small-scale refineries of first groups can only produce straight-run (low-octane) gasoline, the quality of diesel fuel is determined by the content of sulfur and paraffine in the raw materials. The third group of small refineries (300 thous. tons per year) due to thermo cracking, steam reforming is not only provides attractive profitability, but also the possibility of producing high-quality diesel and petrol.
The fourth group of capacity is plants refining more than 500 thous. tons of oil per year. Such plants are built in several stages, as commissioning of all capacities occurs, the plant becomes exempt from the prefix "mini" not only in terms of raw materials processing, but also in relation to technology. Complex of catalytic reforming processes, hydro-treating, isomerisation and alkylation allow to achieve Euro 4 and Euro 5 level of fuel quality.
There are two main concepts: oil refining depth and fuel quality. Refining depth depends on the introduction of secondary destructive processes (thermal or catalytic) but it is not a guarantee of high quality fuel. Fuel quality (Euro 4, Euro 5), specifically the reduction of sulphur in the fuel can only be achieved through fuel hydro-treating, and installation of hydrogen production unit, according to the experts, is profitable for the oil refinery with a capacity of more than 1 million tons of oil per year.
Now about secondary refining processes used at small refineries. In some countries there are real examples of small plants, which implemented Ventech Engineering (USA) secondary processes:
in Russia:
Lukoil - Uraineftegaz - hydro-treating and catalytic reforming of straight-run gasoline 32,000 tons/year (1994);
TNK-BP - Nyagan refinery (Krasnoleninskiy) - 280,000 tons/year - catalytic reforming, hydro-treating;
LLC Mariisky Oil Refinery, capacity - 1 ,250,000 tons/year, catalytic reforming, hydro-treating.
in Iraq (Kurdistan, Erbil):
KAR Oil Refining - 900,000 tons/year (20,000 bbl/day) - naphtha hydro-treating, catalytic reformer installation - 6000 bbl/day, isomerisation installation - 2500 bbl/day. In September 2010, the plant invested $250 million, thereby refinery capacity increased up to 40,000 bbl/day.
in Kazakhstan:
Group of Companies Condensate JSC (Uralsk) currently conducts testing and commissioning of refinery to 600,000 tons/year, which will produce Euro 5 gasoline. Technology of catalytic reforming, hydro-treating and isomerisation (UOP license, Ventech Engineering). It should be noted that the level of investment into the modernisation of the plant is about $180 million.
A number of engineering companies works on the implementation of secondary processes for small refineries, among them: AZSneftebazstroy LLC, Olkat LLC, Linas LLC, Termakat LLC (all Russian), SPC Tural-110 (Azerbaijan) and others. Of course, the leader is Ventech Engineering (USA), but the price of secondary processes for refineries under 1 mln tons/years is starting from $70 mln. SIE Neftehim JSC (Krasnodar, Russia) offers for broad gasoline fraction - hydro-treating, isomerisation, catalytic reformer, compounding - for capacity of 200,000 tons/year - $30 mln, for 500,000 tons/year - $40 mln.
It is reasonable to raise the question: will the owner of a mini-oil-refinery, who built a plant (atmospheric oil refining technology), with capacity of 150,000 tons/year for $5 mln, keep in view Ventech Engineering technology of secondary processes? The answer is simple - certainly not!