High-tech KSB Pumps for Ammonia and Urea Production
The chemical industry is one of the strategically important sectors of the national economy of the Republic of Kazakhstan. It plays an important role in the manufacturing sector, directly impacting the development of such key areas as metallurgy, agriculture and construction.

In 2022, ten projects were implemented in the chemical industry of Kazakhstan. In 2023, 14 enterprises will be put into operation, including plants for the production of green hydrogen, ammonia, urea and bioprotein. Most prospective projects are aimed at the production of basic chemical products, which should promote the development of the chemical industry and a number of other related industries. Ammonia and urea are among the most important products of the chemical industry. Ammonia synthesis is necessary for the production of fertilisers and hydrogen nitrate. Currently, about half of the country's domestic needs are covered by imported fertilisers. It is planned to implement several major investment projects aimed at promoting local production, modernization, expansion and construction of new production facilities, as well as improving technologies for the industrial production of ammonia and urea to become more independent of foreign products. The innovative technologies being introduced will, among other things, contribute to resource and energy efficiency, lower consumption of natural gas and electricity in production process, higher profitability and optimized costs of finished products, as well as creating a more environmentally friendly future.
AMMONIA SYNTHESIS
The process of ammonia production is based on its synthesis from hydrogen and nitrogen with the help of catalysts and high temperatures. The process requires special equipment that can withstand extremely harsh conditions and high pressures. Ammonia production consists of several stages: removal of sulfur and sulfur compounds from natural gas, production of hydrogen by methane conversion, two-stage conversion of carbon monoxide, separation of carbon dioxide out of gas mixture, methanation and synthesis of ammonia.
KSB Group has a long-term experience in designing, manufacturing and supplying pumping equipment for many specific tasks related to ammonia production process. The company cooperates and is one of the main suppliers of pumps and valves to the key global licensors as well as the largest EPC contractors.
One of the key tasks in ammonia synthesis is capturing carbon dioxide.
CO2 can be captured using a variety of methods, each with its own specific advantages. KSB offers solutions for all capture technologies (chemical and physical absorption, direct air separation, etc.) The technology of activated MDEA, under which the solution is primarily regenerated by instant evaporation instead of steaming, is remarkable for the lowest energy consumption. For this technological process KSB offers feed water pumps of RPH and CHTRa type to transfer semi-saturated MDEA solution and sump pumps of RPH-V type for MDEA solution. Technical characteristics, advanced design features and various material application make these products in KSB portfolio an integral part of the technological process of ammonia production worldwide.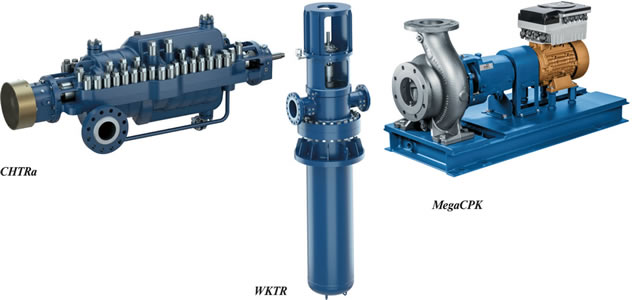 RPH pump BACK PULL-OUT DESIGN
RPH pump is a horizontal radially split volute casing pump in back pull-out design, to API 610, heavy duty, type OH2, single-stage, with single-suction radial impeller and centreline pump feet, with the option of installing the inducer to improve the cavitation qualities of the unit. These pumps have several distinctive advantages. For example, there are more than 70 hydraulic designs to achieve increased efficiency and meet API requirements. Pumps of this series are characterized by outstanding reliability, low operation costs and longer repair intervals. Customized calculation of the shaft unloading based on the duty point significantly reduces axial thrust and ensures maximum durability of bearings. The double volute reduces the radial force and prevents shaft deflection. The load on bearings and mechanical seal is thus considerably reduced.
When fluid and ambient temperatures are high, cast steel bearing brackets with integrated cooling fins and additional fan impeller protect the unit from overheating. Mechanical seals in cartridge design comply with API 682 requirements. This simplifies installation, maintenance and service.
CHTRa
AXIALLY SPLIT BB3 PUMP TO API 610
For higher efficiency of CO2 purification processes, KSB offers one of the latest engineering solutions – CHTRa is horizontal axially split multi-stage between bearing volute casing BB3 process pump to API 610 and NACE for high pressures, maximum performance and corrosion resistance. Back-to-back impeller arrangement balances axial thrust. The pump has a single or double suction first stage impeller to suit low NPSH duties, and the supports are made along the central axis to reduce vibration and thermal expansion. The simple, rigid, durable construction ensures easy maintenance and excellent reliability. The updated hydraulic part and practical design make it easy to install the pump without large capital costs.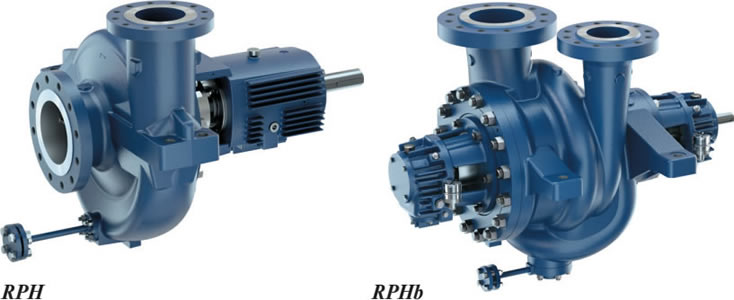 RPH-V
VERTICAL SINGLE-STAGE SUMP PUMP
RPH-V pumps drain MDEA solution from process tanks during the CO2 purification process. RPH-V is a submersible vertical, singlestage sump pump with a volute casing and radial impeller. The construction and material design of the pump comply with the requirements of API 610 and ISO 13709. Its hydraulic part is identical to RPH back pull-out pump. A distinctive feature of the RPH-V is special single gas seals. This technical solution makes it possible to ensure sealing and safely pump out the chemical solution reliably.
KSB FEED PUMPS
The ammonia synthesis process occurs at high temperatures and requires heating, steam supply and circulation, and the main technological equipment cooling. This task is solved with the help of feed pumps for steam boilers and steam recovery systems. KSB produces a wide range of equipment for this application, for example, HPK, HPH, RPHb, Multitec, HG, and CHTR series pumps. Thus, we will always be able to offer the customer the best solution in terms of initial investment and subsequent cost of ownership during operation. CHTR pump is a horizontal high-pressure barrel-type pump with radial impellers, single-entry, double-entry, and multi-stage. To increase the energy efficiency of ammonia production units, such pumps, in addition to the electric drive, are equipped with a turbine for steam recovery.
RPHb series single-stage centrifugal pumps with oppositely positioned impellers are usually used for pumping synthesized cooled ammonia in storage tanks. Commercial ammonia is shipped from storage facilities to the consumer using WKTR vertical can-type ring-section pump. These pumps of multi-stage design have a pot-shaped outer casing, radial impellers, the impeller of the first stage is specially designed to improve cavitation qualities. VS6 type – to API 610. The design feature of WKTR pump is that the hydraulic system of the units is made of low-temperature steel for operation under temperature conditions from minus 45°C and pressure of 4.0 MPa. Tandem mechanical seals with appropriate connections are used to meet the requirements in the field of industrial safety.

KSB PUMPS FOR AUXILIARY PROCESSES
In addition to technological process pumps, KSB offers a wide range of centrifugal pumps for auxiliary water processes, such as water condensate pumps, demineralized water pumps, alkali supply pumps, sulfuric acid supply pumps and neutralization pumps that meet all the requirements of international ISO standards. One of the universal technical solutions for this application is the new generation of MegaCPK chemical pumps.
MegaCPK pump is a standard chemical pump up to DIN EN ISO 2858 / ISO 5199 standards. It is used for pumping aggressive organic and inorganic liquids. The complete unit can be selected to meet the requirements of the operation conditions and characteristics of the pumped fluid, which also directly affects the choice of the unit's material design (gray cast iron, steel casting, stainless steel, duplex steel (Noridur) and other KSB alloys). The increased size of the conical seal chamber reduces wear while handling aggressive fluids and facilitates ventilation in the chamber for gassy fluids. The low NPSH prevents the occurrence of cavitation and makes the operation of the pump vibration-stable and quiet. For higher energy efficiency and environmental friendliness, MegaCPK can be optionally equipped with a high-efficiency KSB SuPremE magnetless synchronous reluctance motor (IE5 energy efficiency) with a capacity of up to 45 kW.
UREA PRODUCTION
MegaCPK pumps are also widely used in the production of such a base element of the chemical industry as urea, as they fully meet the requirements for material and construction design for handling highly aggressive chemical fluids. KSB has a long-term experience in supplying MegaCPK pumps for urea applications to many global licensors, which carry out engineering and construction of urea production plants. In the production process, companies use the most advanced technologies, for example, pool condenser, pool reactor for CO2 stripping or CO2 stripping using a traditional high-pressure carbamate condenser; the technology of carbamide granulation in a fluid bed or prilling. The later is currently used at about 200 plants all over the world. The technological process of urea production itself consists of the following key stages:
synthesis,
recirculation,
evaporation,
desorption and hydrolysis, and
fluid bed granulation (prilling).
At the recirculation stage, MegaCPK pump circulates condensate in a low-pressure carbamate condenser, returns carbamate solution to a low-pressure condenser, and circulates cooling water in a recirculating condenser. MegaCPK pumps transport an 80% urea solution from the tank to the evaporator at the evaporation stage. At the stage of desorption and hydrolysis, pumps of this series pump an aqueous solution of ammonia into a desorber and a low-pressure absorber. These units are also involved in the transportation of process condensate from the lower level desorber to auxiliary systems. At the granulation stage, MegaCPK pumps with a heating jacket transport 95% of the urea solution from the evaporator to the granulator. In urea production units applying other technologies, MegaCPK pumps are used for the circulation of urea solution in the granulator scrubber and the cooler scrubber. Urea is mainly used as a nitrogen fertilizer. The annual domestic demand for mineral fertilizers in Kazakhstan is constantly growing. According to the Ministry of Agriculture, the planned demand for 2023 is 703 thous. tons. This is 100 thous. tons more than last year (604 thous. tons). The most popular of them are five types: saltpetre (nitrogen), MAP/DAP or ammophos (two-component), ammonium sulfate (nitrogen), carbamide (nitrogen), NPK or complex (three-component). As a nitrogen fertilizer, urea is produced in a granular form resistant to caking. Another important industrial application of urea is the production of formaldehyde condensation products – resins, plastics, lacquers and adhesives. It is also necessary to synthesize medicinal substances, pharmaceuticals and cosmetics. In oil refining, carbamide is used for dewaxing diesel fuel and cleaning flue gases of thermal power plants, boiler houses, incinerators, and diesel internal combustion engines from nitrogen oxides. Carbamide is registered as a food additive E927b.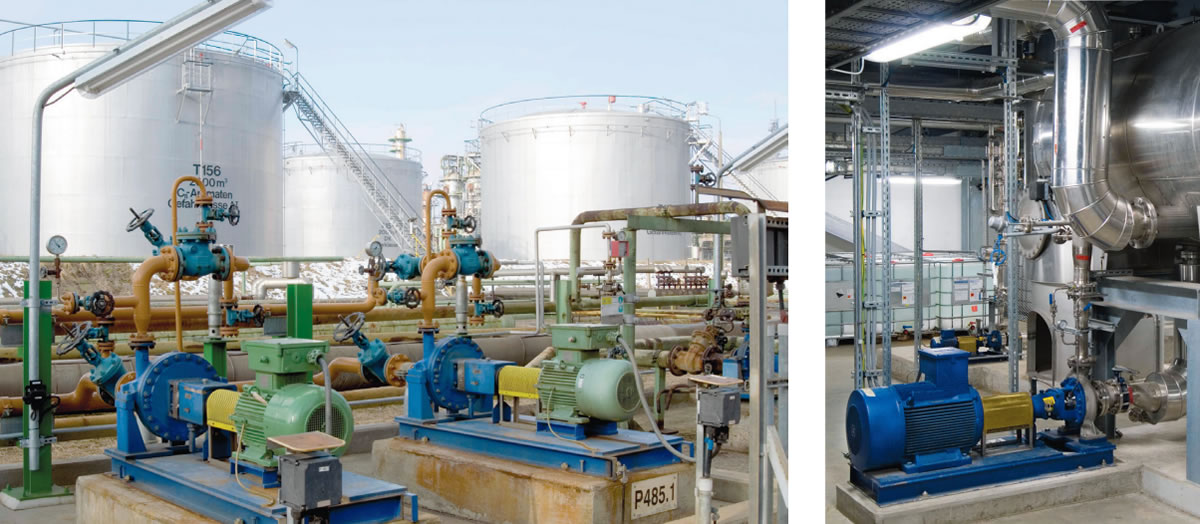 GLOBAL EXPERIENCE USING KSB PUMPS IN THE PRODUCTION OF AMMONIA AND UREA
Modern ammonia production plants are, as a rule, mineral fertilizers enterprises. Therefore, the cooperation of ammonia and urea production processes allows for reducing energy costs and optimizing technologies of both productions. The technology itself is constantly upgraded, new researches and development are carried out to improve the efficiency of catalysts, reduce the temperature of processes and create new, more compact reactor designs using new high-tech and energy-efficient equipment. That is why KSB pumps and valves are the part of the process of construction, modernization and technical re-equipment of modern plants for the production of mineral fertilizers worldwide. Thus KSB supplied as many as 159 high-efficiency pump units, including KWP, RPH, CTN, and others to one of the fertilizer plants in Egypt. The scope of supply to Iran plant once included 76 KSB pumps among which there were RPH, RPHb, RPHv, CHTR, and WKTR, for ammonia and urea production processes. The US fertilizers company with a capacity of 2000 tons of urea per day benefits from 70 units of RPH, RPHb, RDLO, CPK, CTN using them in technological processes for the production of nitric acid, ammonia, urea, in cooling as well as condensate drainage systems. The Netherlands plant with a capacity of 3500 t/day of urea, is also equipped with KSB pumps. 44 units were supplied for pumping ammonia, carbamide, carbamate, etc.
TOO KSB Kazakhstan, a subsidiary of KSB Group, closely cooperates with the largest chemical and petrochemical enterprises in Asia, offering comprehensive solutions both for the main technological and auxiliary processes. Pumps, valves, drive systems and automatic control devices of the highest quality and professional technical and service support throughout the entire life cycle of the equipment provide customers with cost and energy savings, uninterrupted, safe and reliable operation. All imported KSB equipment is certified and complies with all the requirements and technical regulations in industrial safety.