Expertise
#5 (137), November 2022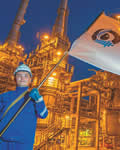 By December 10, the National Welfare Fund Samruk-Kazyna intends to hold an IPO of the national company KazMunayGas. The order book will open in early November, which is when the price of the stock will be known. To date, the book value is 14,325 tenge, but the organizers promise a discount. It will not be people's IPO, as it happened, for example, with KazTransOil ten years ago, but the shares will primarily be sold to citizens of Kazakhstan and institutional investors, and what will remain for foreign investors.
#3 (129), June 2021
Starting May 9, a joint order of the Minister of Energy, agreed with other departments, has entered into force in Kazakhstan, providing a ban for six months on the export of gasoline, diesel fuel, and certain types of petroleum products from the country by road.
#3 (129), June 2021

The first online auction to grant the right to explore and produce hydrocarbons was held on December 23, 2020.